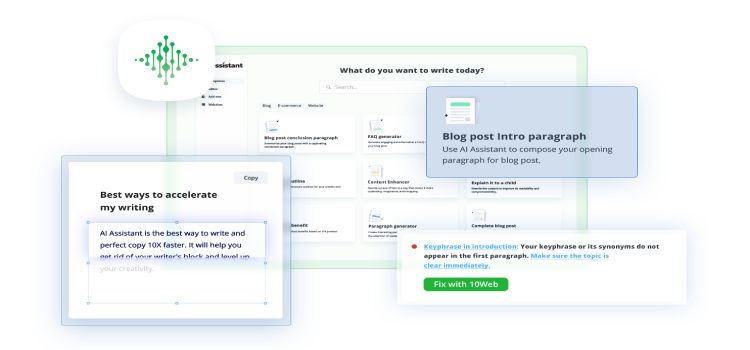 10Web AI Assistant
Pros
Grammar and spell check
Supports 29+ languages
Supports Gutenberg and classic editor
SEO optimization
Varitety of content templates
Free version available
You can use on unlimited sites
Cons
Limited to 2,000 words per month in free plan
It can be expensive depending on your word count needs
Content sometimes needs fact checking and corrections
You can get almost the same content using chatGPT
It often takes long time to process operations even on smaller content parts
Free version is very limited in features
Many WordPress users face persistent content creation, editing, and optimization challenges. Especially when it comes to search engine optimization.
To address these concerns and provide a solution that streamlines content-related tasks, an AI content assistant integrated within the WordPress environment is very useful. By leveraging the power of artificial intelligence, such a tool can automate content generation.
While there are existing AI content assistants and content generation tools available, it's worth noting that these tools often operate externally from WordPress.
The 10Web AI Assistant distinguishes itself by harnessing cutting-edge generative AI technologies such as GPT-3, ChatGPT, DALLE-2, Stable Diffusion, and 10Web's own AI algorithms.
With the 10Web AI Assistant, users can write SEO-optimized content directly within the WordPress block editor and Classic Editor.
This 10Web AI Assistant review will show everything the tool offers, as well as its pros and cons.
10WEB DISCOUNT:
Use coupon kasatenweb for a 20% discount.
10Web AI Assistant Review
The 10Web AI Assistant serves as an all-in-one solution designed explicitly for WordPress users, encompassing the functionalities of an AI content writer, editor, and optimizer. Its advanced technology revolutionizes content creation and editing processes by offering a remarkable tenfold increase in speed compared to traditional methods.
What sets the 10Web AI Assistant apart is its seamless integration with popular WordPress plugins and themes. It caters to various content needs with plans that allow unlimited website connections and access to over 20 templates.
It can generate or paraphrase meta descriptions and titles, resolve SEO and readability errors, address keyphrase and passive voice issues, and ensure proper paragraph and sentence lengths, etc.
Features:
Content Optimizer: Optimize your content for SEO and effortlessly fix SEO and readability issues within Yoast.
Outline Generator: Generate outlines for various types of content such as articles, blogs, descriptions, ads, landing pages, etc.
Paragraph Generator: Overcome writer's block by generating unique, creative, and SEO-optimized content paragraphs.
Introduction and Conclusion Generator: Generate relevant and captivating introductions and conclusions for your articles.
Paraphrasing: Create plagiarism-free copies for product descriptions, blog content, articles, ads, landing pages, and more, ensuring originality and uniqueness.
Content Templates: Choose from a wide selection of content templates that cater to different formats like complete blogs, outlines, list articles, product descriptions, FAQs, etc.
Dashboard
With the 10Web AI Assistant, you can utilize the AI Assistant within your WP admin dashboard using editors such as the WordPress block editor (Gutenberg) or the Classic Editor. Additionally, you can access the AI Assistant features within the user interface of well-known plugins like Yoast SEO.
The AI Assistant dashboard comprises several pages that enhance your content creation experience:
Templates: This section provides a collection of ready-made templates designed to assist you in generating tailored content. These templates offer predefined sections and prompts, serving as a guide throughout the content creation process.
Editor: The 10Web Document Editor, currently in development, is a collaborative tool that complements the AI Assistant. It empowers you to refine the generated content further, providing additional editing features for enhanced customization.
Websites: Within this section, you can conveniently manage all the websites connected to your AI Assistant account. It allows seamless navigation between different websites, providing a centralized location for overseeing your content generation activities.
How To Access AI Assistant?
Accessing the AI Assistant for WordPress (AI Content Writing Assistant and SEO Pack) is simple. Download the plugin from the WordPress plugin repository and install it on your WordPress website.
Activate the plugin and connect your website to 10Web through your 10Web account. Once connected, you will gain access to the 10Web AI Assistant dashboard, where you can utilize its features and functionalities.
Content Generation In WordPress Editor
Once the AI Assistant is successfully installed and integrated into your WordPress website, it unlocks many possibilities for content creation. Within your WordPress environment, you can effortlessly develop various types of content.
To generate unique and high-quality content using the AI Assistant, provide the AI Assistant with input such as text, keywords, and keyphrases, specify the desired tone, select any additional criteria, and initiate the content generation process with a click of a button.
From there, the AI Assistant takes charge and generates fresh and original content that is completely free from plagiarism. Moreover, it seamlessly integrates with Yoast SEO, enabling you to address any SEO and readability errors.
Whether you're using the Gutenberg or classic editor, the 10Web Assistant allows you to generate an extensive range of content, including paragraphs, outlines, copies, text, product descriptions, introductions, and conclusions.
Both editors function similarly with the AI Assistant, with the only distinction being that the AI adapts to the structure inherent in the editor, such as blocks or HTML while creating the content. Once generated, you have the freedom to edit the content as desired or utilize it as-is.
10Web Assistant offers a collection of content templates that serve as valuable resources, streamlining your content creation process.
You can quickly generate an introduction for your content by highlighting the title and allowing the AI Assistant to generate relevant introductory content in seconds, leveraging the title and keywords provided.
With the 10Web AI content optimizer, you can generate unique text, including entire paragraphs, by providing a phrase or sentence as input. The process is quick and automatic, taking only a few seconds to generate SEO-optimized and plagiarism-free content.
The outline generation feature allows you to create well-structured outlines quickly.
By leveraging the capabilities of the content optimizer, you can utilize the provided keywords and suggestions to generate a conclusion that aligns with the same tone, strategically incorporates keywords, and delivers relevant messaging.
The 10Web AI content writer is a powerful tool for paraphrasing, offering the ability to generate numerous copies of unique, high-quality, and plagiarism-free content optimized for SEO.
This tool lets you conveniently paraphrase sentences or entire paragraphs directly within WordPress.
Enhance your paragraphs and sentences using the 10Web Assistant tool by selecting the paragraph in question and pressing "paraphrase a paragraph."
10Web AI Assistant SEO Pack
With the 10Web AI Assistant, you can swiftly generate SEO-friendly descriptions and titles that align with Yoast's SEO guidelines. Additionally, you can optimize existing descriptions and titles.
You can edit key phrases, set appropriate length limits, and enhance the overall SEO score provided by Yoast.
You can fix passive voice errors and transform non-engaging introductions into compelling ones. Furthermore, you can include relevant keywords within titles and paragraphs to boost your content.
Content Templates
Within the 10Web AI Assistant Dashboard, you will find a collection of content templates. These templates serve as valuable resources to streamline your content creation process.
Simply select a relevant content template from the available options to use them. Then, provide any necessary specifications or requirements for your content.
The AI Assistant will generate high-quality, eloquent, engaging content based on the chosen template in just a few seconds.
10Web AI Assistant content templates include:
Blog post conclusion paragraph
Blog post intro paragraph
Blog post outline
Content enhancement
Explain it to a child
FAQ generator
Listicle
Complete blog post
Paragraph generator

AIDA framework
Feature to benefit
PAS framework
Product description
Company About us
Persuasive bullet points
Text summarizer
Unique value proposition
Website sub-headline
Each template is accompanied by a brief description that outlines its intended purpose. Additionally, you can find a sample field within each template, showcasing an example of the type of content it generates.
Some templates may include specific fields for "Tone of voice" and/or "Audience." The "Audience" field allows you to specify the target group or individuals for whom the content is written.
The "Tone of voice" field allows you to define how you want the content to sound or resonate with your audience. While a friendly tone of voice is typically set as the default, you have the flexibility to select a different tone that aligns with your desired communication style.
At the moment, you can generate up to 5 outputs at once. If you don't need more than one output, do not generate more, as it will affect your word consumption.
Image Generation (coming soon)
You can go beyond text generation and also leverage its image creation capabilities. This powerful tool allows you to input a text or prompt describing the desired image, and the AI Assistant will generate unique and captivating images tailored to your input.
These AI-generated images are original and free from any plagiarism concerns.
Document Editor (coming soon)
The 10Web Document Editor offers a seamless and collaborative experience with the assistance of an AI content writing Assistant. This tool enables your entire team to access and work on content writing and editing simultaneously.
Whether manual writing or AI-assisted content generation and editing, the 10Web Document Editor takes real-time, collective content creation to the next level.
Within the editor, you can leverage the AI Assistant service to write and edit articles effortlessly. This user-friendly tool is designed for those who want to create or update their website's content without investing significant effort or in a collaborative environment.
You can compose, paraphrase, automate, and format content as needed, with the assurance that the generated text will be unique, error-free, and plagiarism-free.
The AI Assistant integrated within the Document Editor also ensures that spelling and grammatical errors become a thing of the past.
Pricing
The AI Assistant operates on a freemium model, offering free and premium plans. With the free account, you can generate up to 2,000 words per month.
Premium plans are available through the AI Assistant Pro for users requiring more extensive content generation. The pricing varies depending on your specific requirements.
For $10 per month, you can access automatic SEO-optimized content generation with a limit of up to 10,000 words. The $30 per month plan allows content creation of up to 30,000 words, while the $100 per month plan offers the ability to generate unique, optimized content of up to 100,000 words.
Custom plans are also available for those with higher word count needs. With all the premium plans, you have the flexibility to connect multiple websites.
AI Assistant pricing is separated from other 10Web set of tools, so if you wish to get 10Web hosting, AI Builder or 10Web Booster, you need to know that they are not included in the AI Assistant pro plans.
How Does 10Web Assistant Compare To ChatGPT?
The 10Web AI Assistant and ChatGPT are AI-powered tools, but they have different purposes and distinct functionalities.
The 10Web AI Assistant is designed explicitly for content generation within the WordPress environment. It focuses on assisting users in creating targeted and optimized content, including posts, pages, and more. It leverages AI algorithms and language models to generate unique and SEO-friendly content while also providing integration with WordPress plugins and features.
On the other hand, ChatGPT is a conversational AI language model. It is designed to have interactive and dynamic conversations with users, providing responses and information on various topics. ChatGPT can engage in back-and-forth exchanges, answer questions, provide explanations, and offer general conversational support.
While both tools utilize AI technology, they have distinct purposes and functionalities. The 10Web AI Assistant is tailored for content generation within the WordPress environment, while ChatGPT is designed to engage in conversational interactions.
Alternative Options
The closest alternative option for 10Web Assistant would be GetGenie, an AI content assistant for WordPress that offers a wide range of functionalities. This powerful tool can handle various types of content, including short copies and long-form articles.
With its search engine optimization capabilities, GetGenie enables you to optimize your content for better visibility and ranking on search engines.
One of the standout features of GetGenie is its extensive collection of 30+ templates. For more info, check my GetGenie review.
Other options include Jasper, Anyword, SEO Content Machine, Article Forge, and Kontent Machine.
10Web AI Assistant Review Verdict
10Web offers several set of tools and AI Assistant is latest addion. AI writing assistants have transformed the content creation landscape by leveraging the power of artificial intelligence. 10Web Assistant is one such tool that enables users to generate compelling and SEO-optimized content directly within their WordPress dashboard.
This innovative AI assistant has built-in SEO-checking and editing features, allowing users to quickly identify and rectify SEO and readability errors.
Whether you're utilizing the Gutenberg or classic editor, the 10Web Assistant empowers you to create a wide range of content types. From paragraphs and outlines to copies, paraphrased text, product descriptions, introductions, conclusions, and more, you can leverage the AI assistant to streamline your content creation process and enhance the quality of your writing.
I suggest you try the free plan and see the quality of content generated and if 10Web Assistant would benefit you. You can always purchase a premium plan if needed.
FAQ
1. What is 10Web AI Assistant?
10Web AI Assistant is an AI-powered virtual assistant that helps users manage and optimize their WordPress content.
2. How does 10Web AI Assistant work?
The 10Web AI Assistant operates by utilizing the existing content on your website as a reference. It leverages this content to generate fresh and unique content optimized for SEO and engagement.
3. Is there a free trial available?
The 10Web AI Assistant offers a free usage option. The freemium version has certain limitations, allowing you to generate up to 2000 words of content per month. This will enable you to experience and benefit from the AI Assistant's capabilities without financial commitment.
4. Is the content plagiarism-free?
10Web AI Assistant guarantees the creation of unique, original, and plagiarism-free content.
5. Are there limitations on how much content can be generated?
In the free version, you can generate up to 2000 words of content per month. If your content needs exceed this limit, you can explore the paid plans and pricing offered by 10Web. By visiting their plans and pricing page, you can select a plan that aligns with your specific requirements and grants you access to a higher word limit for content generation.
6. What technology is used to generate content?
The 10Web AI Assistant leverages multiple language models, including the powerful GPT-3 and its advanced variant, the Davinci model. In addition to these pre-trained models, 10Web has also developed its own custom AI algorithms to enhance the functionality of the AI Assistant.
7. What are the 10Web Assistant benefits?
With its assistance, you can streamline your content creation process, improve productivity, and maintain consistency and quality across your content.
8. How is word usage calculated?
They follow the assumption that every 5 characters constitute a word. When the AI generates text based on your input sentence, your word usage is determined by the total number of characters in the input and output text divided by five.
9. What do you get with Assistant Pro?
Upgrading to the 10Web AI Assistant Pro gives you access to a range of additional features and benefits. These include the ability to connect with unlimited websites, an increased word generation limit of 10,000 words per month or higher (depending on the selected plan), support for both short and long writing and input lengths, access to long-content templates, and various other features designed to enhance your content creation experience.
10. Is it compatible with other WordPress plugins and themes?
AI Assistant is designed to be compatible with the majority of popular WordPress plugins and themes.
---
DISCLOSURE: Posts may contain affiliate links. If you buy something through one of those links, I might get a small commission, without any extra cost to you. Read more about it here.