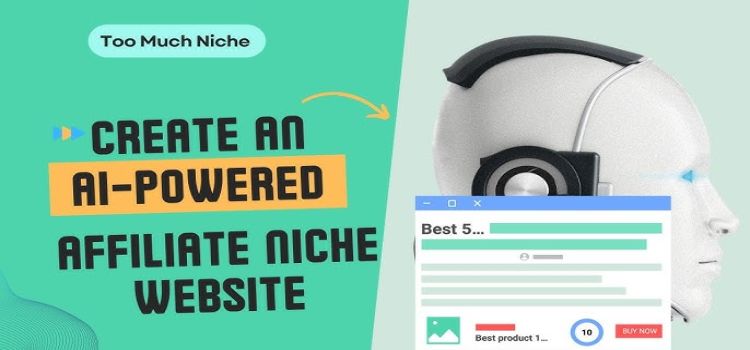 Staying ahead of the competition is crucial in the ever-evolving world of online content creation and affiliate marketing. You need a powerful tool that helps you uncover the most profitable keywords but also assists in selecting the perfect affiliate products and generates unique, high-quality content to drive your success.
From researching keywords to handpicking affiliate products and even crafting content, the Too Much Niche WordPress plugin handles everything smoothly on your behalf.
In this Too Much Niche review, I will show you all the features the plugin offers and how you can utilize them to have your site ready quickly.
Too Much Niche Review
The Too Much Niche plugin uses AI technology, mainly OpenAI's ChatGPT, to create content for affiliate niche sites. It analyzes real product data, such as product descriptions, specs, customer reviews, and ratings, as the foundation for creating unique and useful content.
The entire process, from gathering, processing to generating content, happens on plugin servers. You will not need to concern yourself with paid ChatGPT API access or anything else.
Plugin will also perform extensive keyword research to pinpoint SEO-optimized keywords for each article.
With the help of AI technologies, the plugin creates engaging articles in four formats: Product Roundups, Product Reviews, Informative Articles, and How-to guides (more coming soon), each spanning a length of 1800-2500 words.
You don't even have to worry if articles will look bad and if a bunch of information will be smashed across the article. Leveraging Guttenberg and Greenshift Blocks, the plugin takes care of your content's visual appeal and professional formatting.
Its content formatting relies on Guttenberg Blocks and the free Greenshift page builder plugin to ensure a polished and professional appearance, regardless of the chosen theme.
The Too Much Niche plugin performs optimally in English but offers support for numerous other languages as well.
You can even integrate a plugin with Content Egg. By combining features of the Too Much Niche plugin and Content Egg Pro, the plugin will be able to add, into generated articles, affiliate products sourced from platforms such as Amazon.
How Plugin Works?
The plugin is made to provide you with a fully ready website, taking care of everything from keyword research to content creation, formatting, and article publishing. The time it takes to generate the entire site depends on the number of articles created. For instance, producing 300 articles may require more than 15 hours.
The Too Much Niche plugin's main focus is to create content based on products, which means it is best suited for product niches.
Steer clear of selecting non-product-focused niches and keywords that lack associated products suitable for promotion. When picking keywords, treat them as search terms for product-related inquiries.
The Too Much Niche plugin gives you control over the articles thanks to two distinct modes:
Automatic Mode: In this mode, you target your niche by providing only basic keywords.
Manual Mode: Allows you to specify keywords for each article. It gives you greater precision in managing the products and topics of the articles produced by the plugin.
To switch to manual mode for keyword selection, simply opt for "I want more control and set keywords for articles manually" at the initial step of the wizard.
When you're in manual mode, you can fine-tune the quantity of articles for each article type (roundup/reviews/info). However, it's essential to remember that the total article count should still align with your plugin's pricing plan.
You can specify keywords for each article individually or for some of them, allowing the plugin to handle the rest. Each keyword should be added on a separate line.
In manual mode, you can assign a keyword to each article and provide a list of specific products that should be used in generating the article.
Manual product selection grants you additional control and is an optional feature. This means you can manually handpick products for certain articles while leaving the plugin to automatically select products for others.
Employing a wider array of keywords heightens the predictability of results when it comes to generating products and articles.
Avoid the usage of duplicate or overly similar keywords, as this can result in creating articles with redundant or overlapping content. By diversifying keywords, you ensure better plugin results.
For even more precise control over the results, you can manually input keywords for each article.
The plugin also has AI settings that you can adjust per your needs. You can set Creativity Level and choose from options such as Min (more factual but repetitive), Low, Optimal, Optimal + (more creative), High, and Max (less factual but creative).
Point of view is another setting option, allowing you to pick from first-person singular, first-person plural, second-person, and third-person. Under Tone of voice, you will find several options like friendly, informative, confident, etc.
Too Much Niche uses WP cron for its operations. Even if your website doesn't receive the traffic necessary to trigger WP cron, the plugin servers will automatically ping your cron script, ensuring the plugin operates smoothly in the background without interruption.
Once all articles have been generated and posted, you can deactivate and remove the Too Much Niche plugin from your site. However, in that case, some functions will be unavailable.
When it comes to formatting your content, you can either choose Gutenberg blocks, Greenshift blocks, or Basic HTML.
Greenshift is generally compatible with most WP themes, while Gutenberg blocks require a theme with Gutenberg support. On the post edit page, you can convert an article from one theme format to another.
On the Too Much Niche plugin product page, you can also find demos of sites made with the plugin to grasp how it looks when published.
SEO Schema
The Too Much Niche plugin comes with another useful feature. It automatically generates schema markup for Product, Review, HowTo, and FAQ elements.
Which Article Types Can Be Generated?
Here are the current types of articles that the plugin supports or will support in the future:
Product roundups – the plugin will create a curated list of products that are related to a specific niche. These roundups provide a convenient way for readers to discover and compare various products in one place.
Product reviews – content that provides in-depth evaluations and assessments of individual products within a specific niche or category. The plugin will generate content by analyzing genuine feedback from users who have bought products. The plugin ensures that the content relies on authentic data and provides valuable insights for readers.
Informative articles – the plugin will incorporate 3-4 structured article segments, with each section thoughtfully divided using subheadings to improve readability. These segments may skillfully integrate elements like bullet points, comparison tables, and essential details to effectively convey vital information.
How-to guides – informative pieces of content that provide step-by-step instructions on how to complete specific tasks or solve particular problems within a given niche or field. The content generated by the plugin will maintain a clear and logical flow, breaking down everything into easily manageable and straightforward steps.
Comparison articles (coming soon) – provide readers with an in-depth examination of two or more products within your specific niche, spotlighting the unique strengths and weaknesses of each.
I'm Feeling Lucky (coming soon) – this article type allows AI the liberty to create content that will spark interest.
Integration With Content Egg
Too Much Niche will need to be combined with the Content Egg plugin if you would like to generate a Product roundup and Product review articles.
You will also need Content Egg if you intend to use product blocks and generate articles with affiliate products in How-to guides and Informative articles. For this, you will at least need to activate one of Content Egg modules such as Amazon API, Amazon No API, Amazong Affiliate Egg integration, Bol.com, etc.
You can also manually add products in Content Egg.
Pricing
They provide a one-time fee pricing for the plugin instead of a subscription-based model. With your chosen pricing plan, you can generate a number of articles allowed for that plan.
There are several pricing plans divided into Product articles pricing and Text articles pricing. Product article pricing includes creating articles with affiliate products, and Content Egg Pro is required for this option.
They are all for a single site, and the only difference is how many articles you can create with each plan. You can create product reviews, product roundups, informative articles, and how-to guides (and any future article types added).
Text articles pricing concentrates on generating text-based articles without affiliate products, and for them, usage of Content Egg is not required. Pricing plans are also for single site usage, and the only difference is in the number of articles you can generate. You can create only informative articles and how-to guides.
Each license key is valid for use on a single domain only. Once you start the content generation on a domain, you can't interrupt and use the license key on another domain.
You must purchase a new license key to add more articles to your site. You can repeat this process as many times as needed. You need to use your license within three months from the time of purchase.
Too Much Niche Review Verdict
Too Much Niche is a highly useful plugin that will generate content based on authentic product data and real customer reviews. This methodology guarantees the accuracy and reliability of the information presented, while alternative tools often rely solely on AI-generated content, potentially leading to incorrect information.
Each article created will be displayed in a professional and visually appealing manner for driving conversions in affiliate programs.
The plugin is designed to provide you with a fully functional website in a very short time. It streamlines the entire website creation process, encompassing keyword research, content generation, formatting, and article publication tasks.
The Too Much Niche plugin is finely tuned to specialize in creating content centered around products, making it an ideal choice for any niche that revolves around specific products or product categories.