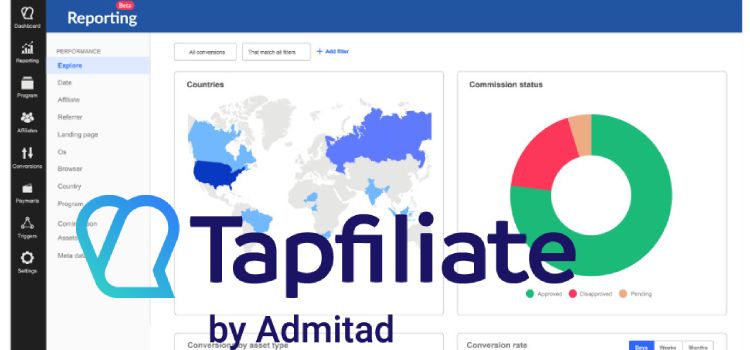 Anyone who has been in business for a while has probably heard of affiliate marketing. Getting started with an affiliate program and integrating it into a business doesn't need to be complicated. That's where Tapfiliate comes in, a service designed to take the difficulty out of creating your affiliate program.
But what is Tapfiliate, and how does it work? We will look at those questions and more in this Tapfiliate review and discuss some of the benefits of the software.
Tapfiliate Review – What Is Tapfiliate?
Put simply, Tapfiliate is a software tool that aids businesses in creating, tracking and managing their affiliate marketing programs.
So what is affiliate marketing? Affiliate marketing is a concept seeking to turn typical word-of-mouth advertising into a partner program. With affiliate marketing, an 'affiliate' (or 'publisher') gets paid a commission for any sales they generate through their unique affiliate link.
Companies seek to partner with content creators, websites and influencers, or people within a specific industry to promote their products or services. There are several different types of affiliates that you can choose to drive more sales to your company.
These programs have a wide range of benefits for businesses. You can drive revenue, ROI and increase conversion rates and traffic. You can easily monitor success using their reporting and intuitive dashboard. It also allows affiliates to receive percentage-based commissions.
With Tapfiliate, you create the affiliate program as you see fit, and the software will help with the rest.
Since Tapfiliate designed the software with the web in mind, it is full of useful features for businesses relying on the internet for sales. Tapfiliate has integration with over 30 eCommerce platforms, including WordPress. With Tapfiliate in your arsenal, you can set up a WordPress affiliate program in no time.
Tapfiliate also boasts use by over 200 companies today. Some companies using the tool include Degiro, Selz, Kickresume, and Sendinblue.
Is Tapfiliate good for your business? That depends on several factors, including the company's size and revenue.
Larger businesses with strong brand can benefit from using this affiliate program management software.
Smaller organizations, startups, and companies with little web presence may not make the most of the product and may not see enough return on investment for the service.
Tapfiliate Features
With the broad overview out of the way, we can look at some of the highlighted features of Tapfiliate.
Create Your Affiliate Program
The most critical feature of Tapfiliate is its ability to help businesses create their affiliate programs. There is no Tapfiliate branding on your signup page and in your affiliate's portal, allowing your business to use its own branding for the affiliate program. This keeps your brand front and center.
Easily Register New Affiliates
An essential aspect of any affiliate campaign is the easy onboarding of new affiliates.
Tapfiliate has many features that make it easy to get affiliates to promote your brand. Aside from being simple to sign up for, the program also distributes essential marketing information to affiliates.
Tapfiliate gives new affiliates a tutorial on its many features, allowing them to hit the ground running. The tutorial information also relieves pressure from the business, as they won't have to field questions on how to use the system or teach new affiliates the software.
Task Automatization
There are several ways you can automate your workflows and tasks using Tapfiliate. There are integrations with Zapier, Make (formerly Integromat), Mailchimp, and Pabbly. A few examples include adding affiliates to a mailing list, approving or disapproving commissions, or adding an affiliate to a group without manual work.
Create Bonus Commission Structures & Incentives
Commissions and rewards are the backbones of any affiliate marketing campaign. Tapfiliate easily allows businesses to create custom commission structures and add affiliate incentive bonuses.
Businesses can base the rewards on total sales or money made from affiliate links. You can even create groups and modify the commission rates for specific affiliates.
Businesses can also decide between commissions per sale or recurring monthly commissions (for subscription-based businesses). Tapfiliate allows complete control for companies to use when managing an affiliate program.
Affiliates can also take advantage of several of the program's features. For example, they can quickly check their current sales and see how close they are to hitting the business's incentives. Tapfiliate's exciting features are great for any marketing campaign, no matter who uses it.
Simple Affiliate Management
Managing all your affiliates, their commission rates, and various incentives is vital to building long-term relationships with them. Thankfully, Tapfiliate takes the busy work out of all this management. It includes many valuable features that make managing your affiliates a breeze.
The program has built-in reporting tools for brands to track revenue and sales. These tools make rewarding your affiliates a simple process and avoid the hassle of managing it without a service like Tapfiliate.
You can also quickly get an idea of how the campaign is going and its impact on your sales through Tapfiliate. The software contains accurate sales tracking and other stats to show the sales affiliates have referred. It also allows businesses to see which affiliates are driving the most revenue individually.
The program presents all sales data with multiple filters, giving business owners unprecedented information on how well each campaign is working. You can look at stats from the entire year, or instead focus on the previous month or week to see the current sales status.
How Does Tapfiliate Work?
Tapfiliate allows you to create your affiliate program and add all your affiliates in a single place. It can be directly integrated into most eCommerce platforms, including WordPress.
Once you've purchased a subscription to Tapfiliate, you can begin managing the various aspects of your campaign all in one platform.
A first-time user will need to integrate with WordPress using the plugin, set up the commission structure, and any custom domains the campaign will use. You can then look over the automation tools and affiliate tracking systems in Tapfiliate. Affiliate links are automatically generated when an affiliate is approved to your program.
Tapfiliate also provides documentation created by experts, a free webinar, and customer service to help users get the most out of the platform. Online customer support is available to answer questions.
Integration With WordPress
With minimal effort, you can directly integrate Tapfiliate into the WordPress client. Once you've signed up for an account, you can download the Tapfiliate plugin on the official WordPress site.
With the plugin installed, you should see a Tapfiliate option in the settings menu on the WordPress site. Click on it and input the account ID Tapfiliate gave you when you signed up. From there, you can choose the features you want to use.
Tapfiliate provides a comprehensive article that breaks down the features you can integrate into WordPress. The report contains numerous codes and shortcuts to add tracking features to your campaign.
Tapfiliate boasts flexibility and easy use for any online business, and its simple integration with many eCommerce platforms is a big selling point.
Pricing Structure
There are three pricing tiers for Tapfiliate: Essential, Pro, and Enterprise.
Tapfiliate sells the Essential Plan for a price of $89 per month. This plan sets you up with the most necessary features of Tapfiliate, such as real-time reporting, category-based commissions, and automation features. This plan also has no transaction fees.
Pro is slightly more expensive, retailing at $149 a month. Aside from everything found in the Essential Plan, it also adds the ability to create custom domains and bonus incentives for affiliates. This plan also allows you to add up to five additional team members who can manage the campaign if you permit them.
The final plan is the Enterprise plan. It does not list a price, and you need to contact them to enquire about the pricing details. It includes single sign-on, unlimited tracking, and premium support for users.
The Essential and Pro plans both come with a 14-day free trial. The company won't charge you while using the trial, and you can cancel or upgrade the program at any time during those 14 days.
Tapfiliate also has a 30-day money-back guarantee, beginning at the end of the free trial. You can also upgrade, downgrade, or cancel your plan at any time.
Customer Service
If you find yourself trying to wrap your head around a feature or concept in Tapfiliate, the company offers customer support. You can reach customer service by either email or live chat. Tapfiliate says they have a 93% customer support satisfaction rate.
The website also contains a frequently asked questions page. For users who want a more hands-on demonstration of Tapfiliate's features, they also offer a webinar to see features demonstrated.
Tapfiliate Pros & Cons
As with any product, there are positives and negatives to using Tapfiliate. We will look at a few now.
PROS:
A free 14-day trial
Plenty of customization options
Works with most eCommerce platforms
Automation options to handle the busywork
Useful for both businesses and affiliates
Reward structure can be easily altered, and incentives can be added
Lots of integrations
Functionality for referral, affiliate, and influencer marketing
Easy onboarding
Effectively tracks sales
Powerful analytics dashboard
Portal is available in multiple languages
Possible to make white-labeled affiliate pages
Great customer support
Multiple setup guides
CONS:
Learning curve when you first start
The price might discourage smaller businesses
Tapfiliate Review Verdict
Several affiliate marketing programs have been popping up as the concept becomes more popular. Tapfiliate is one of the best platforms available for affiliate and influencer marketing programs, and this fantastic product has plenty of positive reviews. Across the web, it has received several four- and five-star reviews.
This program sets itself apart from the rest of the pack with customization options and ease of use.
It can integrate directly into any of the powerful platforms for eCommerce. Users can also customize the reward structure for their affiliates, and the program allows businesses to create incentives for high-performing affiliates.
As an alternative to Tapfiliate, you can use the WooCommerce affiliate plugin (if you use WooCommerce).
AUTHOR BIO:
Darya Jandossova Troncoso is a photographer, artist, and writer working on her first novel and managing a digital marketing blog – MarketSplash. In her spare time, she enjoys spending time with her family, cooking, creating art, and learning everything there is to know about digital marketing.
---
DISCLOSURE: Posts may contain affiliate links. If you buy something through one of those links, I might get a small commission, without any extra cost to you. Read more about it here.