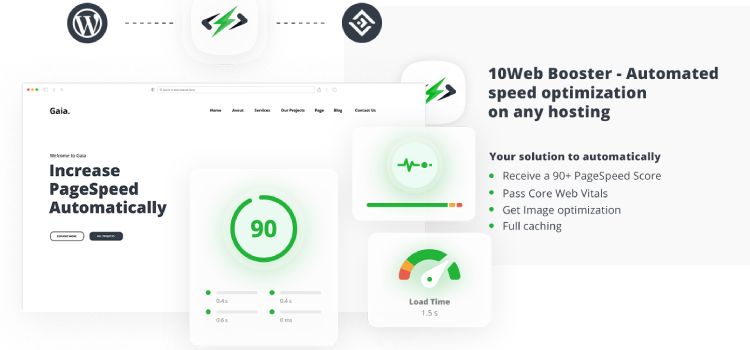 A faster WordPress website brings many benefits like better search engine rankings and happier visitors. However, optimizing a WordPress site for speed is not always easy. Luckily, there are many ways to improve the performance of a site, and one way is by using the 10Web Booster.
10Web Booster offers complete frontend and backend optimization and comprehensive diagnostics on what is slowing down your site. In this 10Web Booster review, I will go into the features it offers that can benefit your site and its pros and cons.
NOTE: Use coupon kasatenweb for 20% discount.
How Is 10Web Booster Different From Caching Plugins?
Caching plugins are designed to accelerate a website's performance by clearing site cache, performing HTML minification, caching files, compressing cached pages, etc. These plugins don't rely on third-party servers for operation but run directly within the WordPress servers.
Aside from being a plugin, 10Web Booster can speed up a website using a combination of different optimization techniques from the frontend and backend. These techniques are best implemented with a website optimization service (10Web) rather than doing all optimization on a WordPress hosting server.
10Web Booster Review
10Web Booster is an amazing plugin for automated speed optimization that's easy to install and manage. It's great for WordPress websites no matter the niche, and it works optimizing desktop and mobile site versions.
The free version offers free to optimize the homepage and five inner pages for up to ten websites.
With the premium plan, you can optimize an unlimited number of pages. The 10Web booster plugin is designed to be easily installed and configured, and it offers four different optimization modes: Standard, Balanced, Strong, and Extreme.
Standard Mode:
HTML and CSS compression and minification
JS compression and minification
Page cache
Image lazy load and image optimization
Font swap
Image conversion to WebP format
Video and iframe lazy load
Container-specific image resizing
Balanced Mode:
Everything from Standard mode + critical CSS generation
Strong Mode:
Everything from Standard mode + all JS delay
Extreme Mode:
Everything from Standard mode + all JS delay + critical CSS generation
How To Use 10 Web Booster?
After downloading, installing, and activating the 10Web Website Booster plugin from WordPress.org, you'll be redirected to the plugin's main page. On that page, you'll be asked to connect your website to 10Web.
Once users sign up, the process of frontend optimization will automatically start, and users will be on the Free Optimizer Plan. In this plan, users are allowed to add and optimize 5 inner pages for up to 10 websites.
In your 10Web account you will see the General tab, which shows website optimization status.
However, in the free version, there is an option to add only five inner pages. They will be optimized using the default mode we've set for your homepage, but you can change the optimization mode for a specific page from the Custom rules tab (Pro version).
To optimize all website pages on the backend, users need to upgrade from the Free Optimizer Plan to one of three platform plans: Personal, Premium, or Agency.
Caching
10Web booster is a powerful caching tool that can help decrease load time on the whole site.
Image Optimization
10Web Booster uses lossy compression to reduce image file size without reducing quality. This makes sure that images always look good and fit their containers.
All images are also converted to WebP, a more efficient format that helps reduce image size. However, the original format is always kept as a backup in case some browsers don't support WebP.
Images, Videos & iFrames Lazy Loading
10Web Booster's lazy-loading allows for images, iFrames, and videos to load as they come into view of website visitors. This helps websites obtain a better LCP value by only loading content about to be seen.
Defer JS & CSS Execution
This feature helps improve a site's loading speed by postponing the loading of non-critical resources until user interaction is detected. Above the fold, content is made visible more quickly through file load optimization that prioritizes important scripts and styles, so they don't block the rendering of other content on the page.
JS Minification & Compression
10Web Booster uses code compression and minification to increase loading speed by eliminating extra spaces, comments, and unnecessary code within files. This allows for quicker execution of JavaScript.
CSS & HTML Minification & Compression
The 10Web Booster helps reduce the size of HTML and CSS files by minifying and merging them, and this saves resources and improves load time.
Critical CSS Generation
10Web Booster uses a technique called Critical CSS generation to improve the performance of sites. This involves separating CSS into critical and uncritical parts and loading the critical parts first. This can save precious seconds while also avoiding unacceptable Cumulative Layout Shifts.
Font Swap
10Web Booster is excellent for reducing the loading time of web fonts and optimizing how they are displayed. This can help pass the Core Web Vitals assessment, which in turn can improve site ranking.
Backend Optimization
10Web Booster Pro is paid version of the plugin that provides backend optimization for improving overall website speed and performance.
Backend optimization begins with a one-click automated migration to 10Web hosting. 10Web Booster Pro uses Google Cloud Premium Tier Network to deliver GCP traffic over Google's reliable and low latency global network.
The newest version of MySQL is included for a faster database, and database optimization is included to maximize efficiency and speed.
The backend optimization uses a metric known as TTFB, or time to the first byte, which measures the time it takes for a web page's initial request to return the first byte of data. Optimization ensures TTFB is faster than 200ms, resulting in improved overall server response time, SEO, and user experience.
You also get access to the latest PHP version for improved code execution performance and speed, while 10Web hosting features can help speed up WP Admin and dynamic pages.
10Web Booster Free vs Pro
The 10Web Booster is available in free and pro version. The free 10Web Booster plugin provides frontend optimization for up to 10 website homepages and 5 inner pages. The free package also offers caching with a high cache hit ratio, improved Core Web Vitals, and a 90+ PageSpeed score.
10Web Booster pro provides various hosting and backend optimization benefits on 10Web's AI-Powered WordPress platform. These benefits include but are not limited to TTFB faster than 200ms, Google Cloud Premium Tier Network, the latest PHP version, the newest MySQL version, etc. By using 10Web Booster Pro, users can enjoy these benefits without extra costs. For more info, be sure to check my 10Web review.
With The 10Web Booster Pro, users get a full suite of website platform features, including AI Website Builder and AI Assistant, real-time backups, white labeling, malware removal, drag and drop editor based on Elementor, and access to more than 50 widgets.
Be noted using another speed optimizer plugin alongside 10Web Booster is not recommended. This includes caching plugins like WP Rocket, WP Speed of Light, image optimization plugin like Shortpixel AI, and plugins such as Swift Performance, Asset CleanUp, etc.
Pricing
10Web Booster Pro is an optimization tool available with paid 10Web platform plans. The Personal plan allows for full optimization and hosting for one website for $10/month.
The Premium plan offers full optimization of all pages for up to three websites and hosting for $24/month. The Agency plan provides full optimization of all pages for ten websites and hosting for $60/month.
Customers with more than 10 sites can receive custom pricing.
Pros & Cons
Here are some of the advantages and disadvantages of using the 10Web Booster plugin:
PROS:
Simple to manage and install
Offers a 90+ PageSpeed score guarantee and improved Core Web Vitals
Works on any hosting
No traffic restrictions
Available 24/7 live chat
Optimization of frontend and backend
10Web Booster Pro includes all 10Web platform features
CONS:
The free plan limits users to a homepage + 5 inner pages. However, there are no traffic limitations
Backend optimization works only on 10Web hosting
Due to either functional or technical overlaps, this tool is not compatible with certain plugins
10Web Booster Review Verdict
10Web Booster is a plugin that helps users speed up their website. 10Web Booster Pro is the paid version of the plugin that goes beyond just speed and into the hosting area. It guarantees that a website will have a PageSpeed score of 90+ for mobile and desktop once it is migrated to the 10Web hosting platform.
10Web provides users with the ability to optimize a website's performance from both the frontend and backend. Its automated speed optimization gets websites among fastest loading sites. This enhances the visitors' user experience, conversion rates, SEO, and engagement.
But I have experienced some issues while using like Image Optimizer never finishing optimization when I click "Optimize Now" button (just starts and never finishes), and Hosting Performance tab showing that sites uses version 7.4 despite that in 10Web platform set PHP version is 8.
When testing 10Web Booster Pro, I did get excellent speed scores and speed that I was getting with WP Rocket, Asset Cleanup, and ShortPixel AI combined (though this combo was little better when it comes to speed results).
I would definitely recommend testing the plugin and see if it fits your needs and expectations.
10Web Booster
Pros
No traffic restrictions
Backend and frontend optimization
Free plan available
Easy to use
Pro version includes all 10Web platform features
Speed improvement guarantees
Cons
Backend optimization possible only on 10Web hosting
Free plan does't let you optimize much pages
Not compatible with many other speed optimization plugins
---
DISCLOSURE: Posts may contain affiliate links. If you buy something through one of those links, I might get a small commission, without any extra cost to you. Read more about it here.