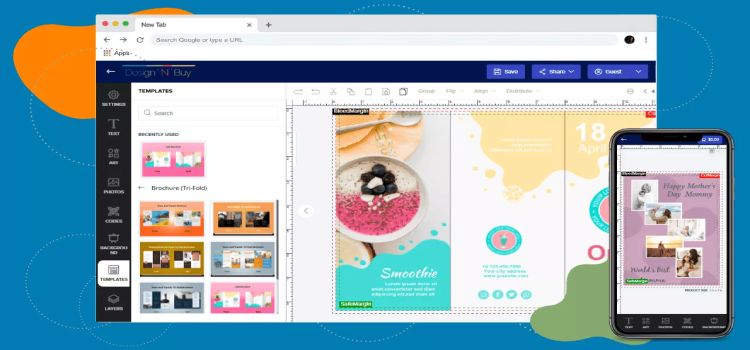 It can be challenging to find a design tool that will be a perfect fit for your needs and that your customers will love.
eCommerce printing business' success depends on successfully implementing a graphic design solution. You want something easy to use for your visitors and your staff.
DesignO is an online editor that you can use without having to do any additional setup. It comes with centralized print order management software, which makes it ideal for various types of businesses.
DesignO gives access to a robust backend system for processing jobs, managing orders, and setting the print workflow. In this DesignO review, I will show you the benefits of using this tools compared to other available solutions.
DesignO Review
DesignO is an online graphic design tool that can be integrated with any eCommerce platform, making it easy for businesses to manage their print designs and orders. The software works for all types of businesses, both B2C and B2B.
DesignO comes from the Design'N'Buy technology company which is source for the reliable, innovative software solutions for online print and packaging businesses.
The DesignO order management system allows you to manage everything from order to delivery. Expand your customer base by offering multilingual options and accepting various currencies.
Multi-store support is available with centralized management if you have more than one store. With DesignO's mobile-responsive design tool, users can use it from any device.
Designing custom artwork and templates with complete control of editable elements is easy for experienced and novice designers. You can choose from a preloaded library of fonts and cliparts, or integrate your own image collection.
Keep your staff and customers informed throughout the order processing cycle by sending messages and alerts from within the system.
Storefront can match your brand colors. With DesignO, you can personalize the logo, color, and theme to match your business using backend configurations.
Features:
Integration with any system using API
Integration with eCommerce systems, MIS systems, ERP systems, CRM systems, etc.
Mobile responsive
Multilingual and multi-currency features
Branded storefronts and multi-store support
An easy-to-use template creator with complete control over editing
Available clipart and font libraries
Print-ready or digital output
Pre-press to delivery – complete order management
Controlling the print workflow and managing jobs
Real-time production and job schedule status
E-mails and notifications to customers for approvals and updates
Data security through role-based access
Integration with any stock image library
Integrations
DesignO's easy API-driven integration is the best way to integrate with eCommerce, ERP, MIS, CRM, or other systems. Many popular platforms are pre-integrated with DesignO, including Shopware, OpenCart, PrestaShop, BigCommerce, WooCommerce, Magento, Odoo, Shopify, etc. Just install the respective DesignO plug-in to get started.
You can find DesignO WordPress plugin in the plugins repository. Once you have downloaded and configured the plugin, you can start adding products in DesignO by entering each SKU you want your end customers to personalize on your online print store. The 'Customize' button will appear on every product page once the changes are live.
DesignO plugin is great option as WooCommerce print on demand plugin. Working with DesignO does not require you to migrate webiste to a new platform. You just integrate it with existing one. In this way you do not lose any SEO work you may have done on your original content or current online store.
Admin Panel
Whether you have multiple online stores built on different eCommerce platforms or the same platform, you can manage them all through a DesignO centralized dashboard. This will ensure that all your orders go through print production and are delivered on time.
The dashboard lets you view sales, SEO, and marketing reports from each print store. See all eCommerce stores in real-time and improve the efficiency of your business operations.
The primary aim of your eCommerce store should be to make it easy for visitors to personalize print-ready templates of their choice and place orders.
The dashboard not only allows you to keep track of the current job status but also orders that have been sent to pre-press, artwork that has been sent to graphic designers, and orders undergoing die-cutting. This makes it an invaluable tool for helping you be more effective.
Job Calendar
DesignO makes it easy for you to see print orders and plan work accordingly.
You can check out order status on a daily, weekly, or monthly basis. Apply filters within a date range to view tasks for specific dates.
Stores
Under Stores tab, you can see all stores added to DesignO and easily add new store by clicking "Add Store" button. Then you will see several fields which need to be completed to finish the integration.
Order Management
Analyze order summaries, including orders in process, sent, or completed orders. It is possible to view the job summary as a percentage, which allows you to see which orders are currently on schedule, which are delayed, and which are on hold.
To resolve any bottlenecks that can arise during fulfillment, you can receive message updates from your team about the orders.
Products
Under Products tab, you can see all available products you currently have and add new products.
Templates
DesignO is the perfect tool for anyone looking to add a personal touch to products. With DesignO, customers easily customize attractive templates for any product.
It is the best choice for those who want to create unique designs without design knowledge or experience. With DesignO, customers can easily choose a template, vector art, font, or stock photo from the library and create something that fits their needs.
With DesignO, you can create reusable profiles for personalization and production that will help quickly set up templates. Easy reusability and efficiency can be achieved by combining elements into components. Once you have a separate version of the template, you can change, add or remove any part of the template.
Use an integrated template builder to easily create unique templates for your designs or import existing ones. DesignO easy-to-use editor is located in the admin panel and provides customers with a simple way to personalize products.
Thanks to the image uploader, customers can use their own images. Furthermore, the app notifies if the image quality deteriorates, so you can take action.
Download Files
Option to download the final artwork files in different formats, including PNG, JPG/JPEG, and PDF. DesignO doesn't restrict file format choices. Besides being able to download files, you can also push them directly into the "hot" folder.
These folders monitor changes in a local or remote folder and will automatically move newly created or modified print-ready files without interrupting workflow.
Design Studio
In DesignO studio, you have access to preloaded fonts, stock photos, and a clipart library. It also includes features such as background removal, multiple page support with different page layout designs, auto-image quality detection, background options like solid colors or images, variable data printing support, live 3D preview, etc.
By switching products within the design studio, you can view the same design on different merchandise. You can provide end users with the option to update editable fields, such as text or photo uploads, and to add new elements, including QR codes, clipart, backgrounds, and shapes.
By adding a mask to a layer, you can hide portions of the layer and create interesting effects. Masking layers can also help you combine multiple photos into a single image or remove an object or person from a photo.
With options to manage layers, copy and paste, group and ungroup, change colors and font type, and add visual margins, customers can easily create beautiful designs customized to their taste. And best of all, they can do it all from the same page without leaving the storefront.
Role-Based Access
The DesignO allows you to create multiple roles and user accounts with role-based access control. Therefore, different roles can have different access levels to the various aspects of the DesignO backend.
You can easily restrict who can access sensitive business and customer information and change teams' access settings and user privileges at any time.
Print Workflow
You can ensure that your products are printed properly and according to the chosen settings by adjusting settings based on product demands. This will help you avoid any issues with prints.
Personalization/Production Profile
With DesignO, you can create reusable production and personalization profiles, thus reducing configuration time.
How Site Looks On Frontend?
If you are interested how the site will look for customers, you can check frontend demo.
While browsing products, customer can click on "Customize" button and he will be redirected to Designer Tool to further customize the product per his wishes.
They will have many various options to design the selected product.
When choosing design options, print quantity, and fabrics, customers can easily see an estimate of the total cost. This way, there are no surprises or hidden fees – everything is completely transparent.
Pricing
DesignO pricing will depend on how you want to integrate your platform and DesignO. According to that, there are two pricing options:
Software-as-a-Service (SaaS) license allows you to use the DesignO software on DesignO cloud servers, eliminating all hosting and technical concerns. They take care of everything for you in exchange for a monthly fee.
DesignO perpetual license allows you to manage everything yourself and install DesignO on your own servers.
Unfortunately, the price is not disclosed, and you need to ask for the price.
DesignO Review Verdict
Selling print products is a lucrative business. While web-to-print technology is one of the most popular ways to support this, you still need a solid print workflow to help you achieve all your tasks while keeping your customers satisfied.
Here's where DesignO comes into play. With it, business owners can sell print services easily using any eCommerce platform through plug-and-play functionality.
The DesignO online graphic design studio is a fully API-based plug-and-play solution with a centralized print management system, which integrates with any backend or eCommerce application.
With the design tool, customers can create personalized artwork for various products. Once the artwork has been made, they can download it as a digital file or order prints per your predefined pricing structure.
If you want to be successful, a personalized graphic design tool like DesignO will give you all the tools you need. And if you manage store with WordPress, DesignO is the best option to conduct WooCommerce print shop business.
---
DISCLOSURE: Posts may contain affiliate links. If you buy something through one of those links, I might get a small commission, without any extra cost to you. Read more about it here.