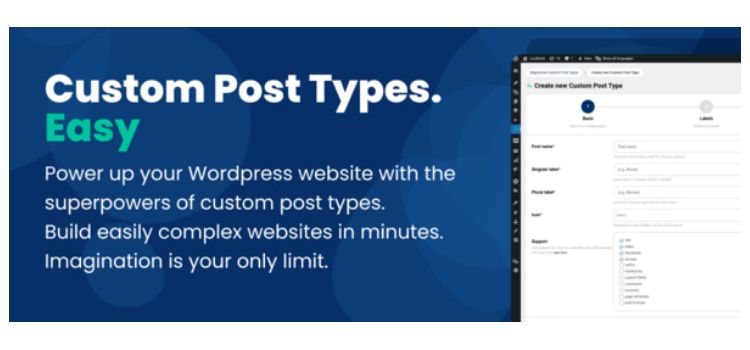 WordPress can display a wide variety of content, but keeping it organized may be a challenge. There are just a few default choices, and modifying them can be difficult.
It is possible to create a new item type that will contain a different set of data using custom post types. As a result, it'll have its own admin menu, set of custom taxonomies, editing pages, etc.
Custom types are most suited for websites with content organized in unusual structure. Custom post types are a great option if you need to present content uniquely that isn't possible with standard posts and pages.
This ACPT review will show how this plugin can help create a website from inside the WordPress site.
What Is Custom Post Type?
You have likely encountered custom post types before since developers use them for various purposes, such as adding portfolios, testimonials, staff, etc., to their WordPress themes.
This means that a custom post type is merely a normal post with a customized post type value in the database. There are five default post types: page, post, revision, attachment, and navigation menu. It's possible to create your own custom types.
ACPT Review
ACPT is a freemium plugin that allows you to register custom post types and taxonomies and create custom meta box fields with field types.
ACPT provides page builder integration through a custom shortcode, Elementor widget, and Gutenberg block. It also offers WooCommerce integration for all product types and default data.
ACPT pro version comes with additional useful features which provide you better control over your custom post type and allows you access to advanced settings.
You get access to additional meta box field types (24 total), enhanced post type relationships, HTML template builder for archives or singles pages, support for custom APIs, ability to import/export data, etc.
Main Dashboard
From the main dashboard, you can manually sync post types, create, update, view, or delete post types.
Once you install the ACPT plugin, a sync process will be performed automatically to find already registered custom post types.
Template Builder
A section labeled "Frontend UI" can be found in the main ACPT dashboard. You will see the Archive template and Single template columns. Click on the Create button to begin the creation process.
The builder section has two parts: the sidebar on the right and the editor on the left. In the sidebar, you can find the building blocks to drag into the editor.
The search box at the top of the sidebar can be used to filter blocks.
Blocks are organized in several groups:
Basic – basic static blocks
Layout – blocks for page layout building
WordPress standard fields
Theme widget areas – display the widget areas
ACPT custom blocks 
Every dragged block can be selected by clicking on it. The controls panel in the sidebar will appear when the block is highlighted.
You can drag and drop any block on the page and delete it if necessary.
WooCommerce Integration
ACPT offers integration with the WooCommerce plugin. In the main ACPT dashboard, locate a column titled Product data and click on the Manage button.
Add new product data by clicking the "Add product data" button.
The creation of a new product data includes product name, icon, visibility, and show in UI.
Once you are in the WooCommerce product data dashboard, you can create, view, update or delete registered product data.
Register New Post Type
There are two methods for updating post type:
by selecting Edit from the Dashboard
in the View mode, by selecting the Edit link
The procedure of updating post type is similar to when creating post type. There is just one notable difference: you can't change the post slug when updating.
A Custom Post Type can be deleted from the dashboard by selecting the Delete option.
By clicking the View link in the dashboard, you can view a Custom Post Type. Three tabs appear in the View mode to represent the three phases of the creation process. There are three steps when creating a new post type.
From the main dashboard, click on the "Register new Post Type" button or use the Register Post Type tab to create a new custom post type. There are three steps avaialbe when creating post type. Those are Basic, Labels and Settings.
Basic
This is the most important step. Here, you will find options such as:
The post's title – Post name which will be used for various queries
Label in the singular form
The plural label
Icon – It will be displayed in the admin panel sidebar
Support – Add support for various available post edit features
Labels
Here you will find admin panel default labels. The default settings are fine in most cases, but you can always adjust them to suit your needs.
Settings
If you aren't sure what you're doing, leave everything as it is under this tab.
Once you complete the three steps, you'll see the new custom post type on your admin panel.
Registered Taxonomies
From the main dashboard, you can create, view, update, or delete taxonomy.
After installing ACPT, a sync procedure with already registered taxonomies will automatically perform.
Once a taxonomy is created, you can associate it with a registered custom post type.
Register New Taxonomy
Add new taxonomy by clicking the "Register new Taxonomy" button. This also has 3 steps with almost identical options like when registering a new custom post type.
Registered Taxonomy offers the same ways to view, edit or delete taxonomy as for post type.
Meta Boxes
You can create meta box by either going to "User meta" tab or clicking "Create" button in the main dashboard under Meta boxes. When you click the "Add meta box button," the first thing to do is type the box name (simply double-click on the title to edit it).
Click the "Add field" button at the bottom of the meta box field to add a new meta field.
From top to bottom, you have options:
Show in admin archive – show this meta field in the admin post type archive page in the admin panel.
Field required – Choose this option if you want this field to be mandatory.
Field name – Enter the name of the field.
Field type – Choose the field type.
Default value – Set the pre-set or standard value.
Description
The Options list panel will be shown if you pick a field type that only accepts a list of possible values. There are many available field types, and most are available in the pro version.
Editing saved meta boxes is always possible. You can create post meta boxes from the main dashboard too.
Import/Export Data
To export data, choose the relevant post types from the 'Post structure and associated taxonomies' column.
Along with taxonomies and meta box fields, product data can also be exported (in the case of WooCommerce product post type).
For importing, select Import from the ACPT main menu. Upload here a valid ACPT backup (in .acpt format).
Gutenberg Integration
The ACPT shortcode can be generated dynamically in the Gutenberg editor.
Press the "+" button, and search for "Meta box fields." Now select the desired field and set available extra parameters for the selected field type. You can also use shortcodes instead of Gutenberg blocks.
Free vs. Pro Version
ACPT allows you to design a website from inside the WordPress without the need for child themes or PHP.
Main features of the free version:
Create and manage custom post types and meta box fields ( 3 available in the free version).
Create, manage, and link new custom taxonomies.
User meta fields manager (choose between 3 field types).
Use an interactive block in the Gutenberg editor to generate the ACPT custom shortcode.
Custom widgets for Elementor.
Integration with WooCommerce.
Basic REST API integration.
Integration with Gutenberg.
If you need more features, you will need to purchase the ACPT pro.
Pro plugin features:
Advanced meta box fields manager (24 available).
Relationships handling between post types.
Advanced builder for archive and single templates.
Advanced user meta box fields manager (25 available).
Custom APIs dashboard
Export/Import option.
ACPT Price
The ACPT plugin comes in a free and paid version. The Pro version can be purchased under an annual or lifetime plan. Plans are divided based on how many sites you can use the license on (single site plan, five sites plan, and unlimited sites).
Annual plans start from 29.99/year for a single site, while lifetime plans start at $99 for a single site.
The annual license requires renewal. If the license expires, the premium features will be disabled automatically, and only the free features will work.
ACPT offers 14 days money-back guarantee, and this means you can get a full refund during that period.
ACPT Review Verdict
It's easy to be intimidated by custom post types. But there is no reason for that. The principles of custom post types can be understood with little practice and will allow you to build any kind of site.
Custom post types allow you to go beyond posts and pages and create different content types for your website. They transform your WordPress site into a powerful system.
You can create your own custom post types. They are useful when creating content with a different format than a standard post or page. This is where the ACPT plugin comes into play.
Its custom post types and taxonomies manager, a builder for archive and single templates, advanced meta box fields manager, WooCommerce and page builder integration, etc., will make your life easier and your site a powerful platform.
The plugin comes in a free and paid version. You can use the free version and test how the plugin works. If it suits your needs and when you need more features, you can easily upgrade to the pro version. The paid version is affordable and comes with many additional features.
---
DISCLOSURE: Posts may contain affiliate links. If you buy something through one of those links, I might get a small commission, without any extra cost to you. Read more about it here.