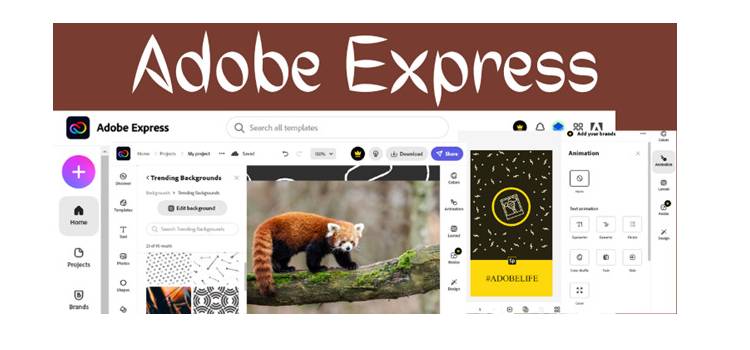 The dominance of Adobe in the graphic designing industry is not surprising. The company has worked for decades to stay at the industry's top. Not long ago, only experts could design beautiful images using Adobe software.
Some automated tools like Canva and Easil made the graphic designing job easy and allowed even newbies to create stunning designs.
Adobe faced a decline in its popularity as people became more attracted to automatic tools. That's why Adobe launched its automated graphic designing software called Adobe Express.
In this Adobe Express review, you will find out all what it offers, as well as its pros and cons.
Adobe Express Review
Adobe Express is a cloud-based graphic designing software that allows users to create high-quality designs.
Previously, it was known as Adobe Spark and was rebranded by the company as Adobe Express back in 2021. Adobe Express users can access many stock photos, templates, and fonts.
Adobe Express was a great revolution in graphic design as it enabled non-designers and newbies to design outstanding designs using templates.
It is an ideal tool for editing images and videos and creating web graphics, flyers, book covers, custom banners, logos, social media posts, and advertisements.
The best part of the software is that you don't need to be an expert. Anyone can design stunning images just with a few clicks.
How Much Does Adobe Express Cost?
Adobe Express is available free of cost with thousands of templates, stock images, fonts, and other amazing features. The free version is available for a lifetime period with a 2GB online storage capacity.
However, you need to upgrade your plan if you want access to premium features.
Adobe Express premium plan will cost you $9.99 monthly. By buying a yearly premium plan, you can save costs up to 16% by paying $99.99.
The premium plan will give you access to over 160 million Adobe stock photos and 20,000+ licensed Adobe fonts. You will also get 100GB of cloud storage, which is good.
Before buying the premium version, you can test the software with a 30-day free trial.
Adobe Express Key Features
Here are some outstanding features of Adobe Express.
Main Interface
Perfect software is always user-friendly and easy to understand. Adobe Express fits every definition of excellence when it comes to interface.
The main screen is so simple that an ordinary person can understand it easily. A list of Adobe Express is located on the left side of the main screen.
From the main interface, you can manage your content, select templates, access your recent projects, or start designing from scratch. This home screen simplicity can help you access any feature quickly.
Templates
Templates are beneficial tools for beginners and non-designers. Nowadays, you don't need to be an expert in graphic design to create stunning images. The designing tools offer automatic features that make your job easy.
Adobe Express has thousands of templates for your design needs. The template library is easy to use, and you can customize templates according to your choice.
You can also find specific template designs by typing keywords in the search bar. For instance, if you want to design a unique image related to football, type it in the search bar, and hundreds of templates will be available.
Project Management
Project management is one of the best features of Adobe Express that keeps a record of all your creations. You can find it on the left side of the screen in the features list.
It is the location where all your content is stored. You can access your previous projects and the projects others shared with you.
By using the project management feature, you can share your creation with others by inviting them via email or sharing the link. You can also control permissions, such as who can view or edit the project. In this way, this is a perfect way to share your work with clients.
Brand Management
Brand management is a dedicated feature for businesses. Business managers continuously need to design and edit images for their brands. By using this feature, you can manage your brand needs.
You need to upload your company logo and select the color and font to get started. Once you have chosen your brand themes, you can add these designs to all your new creations. In this way, you can create custom themes for future needs.
Adobe Express Library
Adobe Express library is a cloud storage where all your projects are saved. You can access these collections from anywhere on any device. You can share your library assets with others.
Adobe Express library cloud storage works in real-time. It saves all the changes immediately. This means all your creative work is safe in the case of a device crash, and you can assess your creation on the device without loss.
Scheduling
Scheduling is the most loved feature by social media users. Many scheduler apps charge between $10 to 50$ monthly. But you can use this feature free of cost if you have access to the Adobe Express premium plan.
Adobe express scheduler allows you to connect your Facebook, Instagram, Pinterest, LinkedIn, and Twitter account. You can add multiple visuals and captions and set the time for posts to go live.
However, this feature doesn't work for all social media platforms. For instance, you can tag people and add locations for Instagram, but it will not work for Facebook. You will need to add it manually once the post is published.
Graphic Editor
A graphic editor is the central part of any graphic designing tool. Adobe express editor is simple and easy to use. It is not complicated as a person with basic knowledge can access various tools easily.
You can freely move, insert and edit elements in your design. While editing your design, you can access features like color, background, resize, and animation from the right sidebar.
When you click on any element from your design, Adobe will open a tab having features edit text, font recommendations, and effects. Hence you can finish your editing tasks quickly.
Adobe Express Fonts
While adding text to your designs, it might be frustrating if the font doesn't look good. To overcome this, Adobe Express offers you 20,000 font styles.
Some of them are very popular among graphic designers, such as Renata, Proxima Nova, and Museo Sans. So you can take your creations to the next level by adding stylish fonts.
Adobe Express Colors
This tool allows you to change the color of elements in your design. Many color patterns are available in Adobe.
If you select any pattern, it will change the element's colors automatically. If you don't like the automatic colors, you can change them manually.
Image Background
Adobe express offers a variety of background options for your designs. You can quickly add backgrounds to your work.
You can change background colors and add multiple backgrounds to a single design. Adobe also has a background remover that allows you to remove the background of your images.
Image Editor
Adobe Express has a basic image editor. While creating your design, you can insert an image and customize it according to your design requirements.
You can crop, rotate and apply filters to the picture. Furthermore, you can adjust brightness, contrast, saturation, and shadows. In this way, you can add quality images to your designs.
Adobe Express Pros & Cons
Here are some of the advantages and disadvantages of using Adobe Express:
PROS:
Easy to use
Powerful image editor
Thousands of beautiful templates
20,000+ font styles
160 million Adobe stock photos
Available in 15 languages
Beginners and non-designers friendly
Available in web and mobile app
2GB cloud storage for the free version
100Gb storage for the premium plan
Social media post scheduler
Pdf editing
Project manager to save your creation
Brand manager to manage your business
Real-time draft saving
Hundred of animations
Thousands of background layouts
Lifetime free basic plan
30 days free trial access to a premium plan
CONS:
Limited free features
Not a perfect video editor
Poor image rendering quality
Adobe Express Alternatives
Although Adobe Express is unique in its features and functionality, there are some great graphic designing tools that you can use as an alternative to Adobe Express, like Canva, PickMonkey, BeFunky, Fotojet, VistaCreate, etc.
Adobe Express Review Verdict
Adobe express is a perfect graphic designing tool that can help to fulfill your maximum needs. The above mentioned are some of the top features of this software. It has the largest templates library. Therefore it is the perfect tool if you are a beginner.
Furthermore, the software is easy to use with a clean interface. There is a separate section of tools in the left sidebar, which makes it easy to access.
In short, it has everything that an image editor software should have. Adobe Express is an excellent choice if you want to start a graphic design journey.
AUTHOR BIO:
Zakaria is a certified SEO professional and content writer. He has been in the field for the past three years. He has vast experience in content writing, covering multiple niches. In his free time, he prefers to read books and magazines.
---
DISCLOSURE: Posts may contain affiliate links. If you buy something through one of those links, I might get a small commission, without any extra cost to you. Read more about it here.