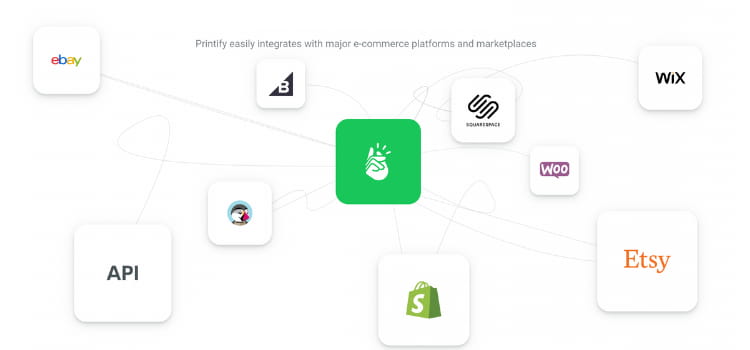 Are you thinking of starting your own small business for a side hustle? You can utilize various eCommerce platforms, such as Shopify, Wix, WooCommerce, Squarespace, and more, to sell unique, customized merchandise. Think about originality expressed in spunky pet supplies, awe-inspiring postcards, or gag-inducing posters or calendars.
According to research, the customized apparel market is expected to increase by 1.13 billion USD by 2025, at a CAGR of 5.79% during the projected period. So customized hoodies and sweatshirts are also great selling options during the upcoming winter.
You can sell anything that comes to your mind and express your creativity to make them uniquely branded to your company.
But the primary concern that now pops up in every new merchant's head is: how will they take care of designing, supplying, and fulfilling such orders?
Printify solves all these problems by providing entrepreneurs with an efficient Print-On-Demand (POD) business model. This Printify review will dive deep to understand what and how Printify offers.
Printify Review
Printify is an online platform that provides print-on-demand services, allowing entrepreneurs to create unique products with customizable designs on over 700 cataloged items. To understand the services provided by Printify, let us understand the POD business model.
In print on Demand (POD) business model, the supplier sends manufactured items directly to the clients after the completion of a sale. The business owner does not need to manage or invest in an inventory in this model. When the customer places an order on your platform/online store, the POD supplier receives it and fulfills it directly by shipping it to their doorstep.
The POD model is growing in popularity over time because it is a low-risk and low-investment model that empowers entrepreneurs to build their businesses. In 2018, over 10,000 Shopify businesses incorporated a print-on-demand model, and Printify is amongst the top POD suppliers in the market.
Printify provides flexible pricing options depending on the needs and resources of every business with three plans. You can opt for the free plan if you are a newbie at eCommerce businesses.
You get unlimited product designs and can connect up to five stores. Additionally, you get access to features, such as a mockup generator, integration to eCommerce platforms, manual order creation, 24/7 merchant support, a self-serve help center, and custom order imports.
For growing businesses, Printify Premium costs 24.99 USD/month, allowing you to sell on 10 different stores. It provides a 20% discount on all its products in addition to the features offered in the free plan.
Also, Printify offers an Enterprise pricing option for businesses with more than 10K transactions a day. Printify provides all premium offerings in a custom-priced account, custom API integration, a personalized account manager, and brand-specific customer support.
Depending on the needs of your business, Printify provides various solutions to rid you of the worries of supplies and inventory management and automate selling to let you focus on their creativity and marketing.
If you want to know how to use Printify, read this Ultimate Guide to Getting Started by Printify.
Printify Features & Integrations
One of the biggest perks of using Printify is the platform's wide range of features and integration options. Let us look into it further.
Printify integration is available for many major e-commerce platforms, including Etsy, eBay, BigCommerce, PrestaShop, WooCommerce, Shopify, Etsy, Wix, etc., that make selling your products easy and convenient. Printify connects with your preferred sales podium so you can earn more profits and revenue efficiently by sharing efforts.
They also provide custom API for sophisticated users and corporations opting for enterprise plans.
All you need to do is choose the right eCommerce channel for yourself, design your products from over 600 products in the Printify catalog, publish and make them public in your store, and start selling.
Printify WooCommerce Integration
Printify offers a WordPress integration with a plugin for WooCommerce to avail the POD model and make drop shipping easy for merchants. You can make customized goods on Printify and sell them on any WooCommerce-enhanced website built through WordPress.
Printify automates the production of orders placed by your customers on your WordPress store and ships them directly to their doorstep while you generate revenue.
Use their HQ Mockup Generator and explore over 90 leading printing vendors worldwide in a single place with Printify WordPress-WooCommerce integration. You can filter by price, location, and other criteria to meet the needs of your business and your target audience.
Printify Integration for Woocommerce gives you access to 24/7 merchant support that handles queries regarding your customer's orders and reinforces your business to keep selling. Additionally, Printify promises guaranteed production time for customer satisfaction and minimizes losses.
To integrate Printify with WooCommerce, follow the steps below:
Go to your website and navigate to WooCommerce in the WordPress admin panel.
Go to the settings, click the Advanced button, and Enable the legacy REST API in the Legacy API Save the changes.
Go back to settings and click on permalinks in the menu on the left. Choose any other choice except Plain, such as Day and name or Month and name, then save adjustments.
On the Printify website, log in, add a new store in Manage My Stores, and connect to WooCommerce.
Add the WooCommerce URL of your store as mentioned in the WordPress admin settings.
Lastly, install the Printify for WooCommerce Plugin, and you are ready!
Select a product from the Printify catalog and add any design using Printify's Mock-up Generator. Order a sample directly from the manufacturer, and once approved, publish it on your connected WooCommerce platform.
With Printify Integration for Woocommerce, you can manage all the orders of your online store on WordPress websites through Printify. If you face issues connecting your store with Printify, their support team can help via the live chat feature.
While writing product descriptions, you can use the product information directly from the catalog page and include necessary information about the manufacturers.
Add additional details to explain the uniqueness of your designs. Because Printify goods do not require inventory, you will not need to engage stock management regularly. Your product inventory should be updated and available on the Printify My store page.
For more info, check how to start WooCommerce print shop business and the best WooCommerce print on demand plugins.
Shopify Integration
Shopify is one of the leaders in eCommerce markets, with millions of users utilizing it for dropshipping. It has become increasingly prominent in the past couple of years, sharing a 23 percent US market share.
Printify integration for Shopify makes dropshipping easier and risk-free. Printify and Shopify have brought managing POD business to your fingertips with a Printify Shopify App available on the Shopify App store.
Printify presents features for Shopify, such as a free mockup generator tool, 24/7 merchant support, 600+ products to customize, custom imports, and more. Get started here.
Wix Integration
 Wix allows new entrepreneurs to quickly create a user-friendly website for their online business with no requirements for coding skills. Wix enables the creation of a successful online company by providing access to various simple tools for automatically increasing traffic with search engine optimization.
Furthermore, the Wix Manager app allows you to manage your site from anywhere, including adding new goods, tracking inventory, completing or canceling orders, generating packing slips, sending invoices, and more.
With Printify for Wix eCommerce, merchants can inculcate the POD business model and delegate fulfillment and shipping of the orders to Printify.
All they need to do is create products on Printify and publish them on the Wix Stores. With Wix's easy-to-manage tools and Printify's convenient features, users can boost customer satisfaction without putting much effort and investment.
Squarespace Integration
Squarespace is the ultimate website builder for self-motivated artists, designers, and anybody looking to succeed in eCommerce.
They feature over 100 templates for tablet devices, pcs, and smartphones. It allows users to create relevant, professional, and simple-to-customize sites that bring their ideas to life.
Printify's integration with Squarespace enables anybody to rapidly develop a top-notch merchandising online shop without learning to code or spending a fortune.
With the POD business model, you can sell items and track inventory without difficulties, and you'll get 24/7 assistance to answer any order-related questions.
Check this Tutorial to integrate Printify with your Squarespace website.
Printify Review Verdict
 POD business is one of the most convenient ways to start a new business. It diminishes the risks of managing an inventory and provides easy dropshipping options by directly connecting manufacturers to your customers.
Printify dominates the POD market with its easy-to-use integrations and flexible features to suit the requirements of your business at all stages.
Printify shops received over 400,000 orders in June 2020, representing a 311% increase over the previous year. These statistics show businesses enhanced with Printify integration have a high scope of growth with reduced requirements of efforts.
So select your selling platform today and integrate Printify to make selling online convenient, quicker, and effortless.
AUTHOR BIO:
Filip Nikoloski is a Partnership Specialist at Printify. Printify is a transparent print-on-demand and dropshipping platform designed to help online merchants make more money simply and easily.
---
DISCLOSURE: Posts may contain affiliate links. If you buy something through one of those links, I might get a small commission, without any extra cost to you. Read more about it here.