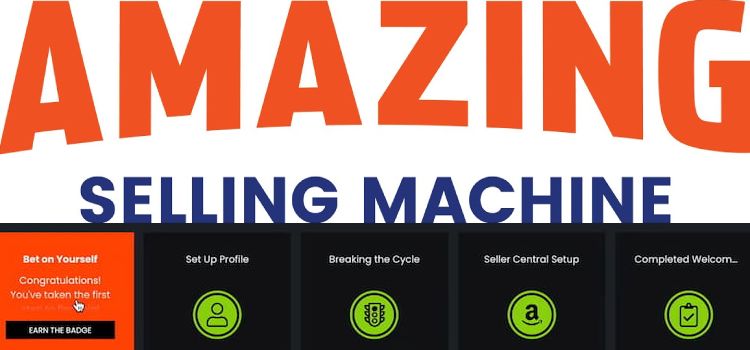 The Amazing Selling Machine (ASM) is a course that teaches how to make money online by selling on Amazon using Fulfillment by Amazon (FBA). The training focuses on building a private-label brand and selling products on Amazon.
ASM aims to be a thorough, detailed training program that will assist you in developing Amazon's FBA business. It covers a wide range of topics, including how to find the ideal product, create effective marketing strategies, scale business, etc.
It is a very popular program, but is Amazing Selling Machine really amazing and worth the price tag and your time? In this Amazing Selling Machine review, I show all pros and cons.
IMPORTANT: You can take advantage of the 40% off Amazing Selling Machine discount even though they do not usually provide a discount code. Simply click on this link to receive a discount.
Amazing Selling Machine Review
The Amazing Selling Machine consists of an 8-week online training course, a private mentoring program (including coaching calls), a global seller community, and a private resource vaultThesese features are intended to show new sellers how to build a profitable Amazon FBA business from scratch without prior experience.
By guiding you step-by-step through developing a profitable Amazon FBA business, it eliminates the hassle and uncertainty of opening your own online store.
With 50 hours of training divided into 160 video lessons, the web class is the program's main component. The Resource Vault within ASM contains many of downloads and other resources, including spreadsheets, PDFs, tools, and stock photos.
Additionally, ASM has a community where users can connect with other sellers (members), post updates, and ask questions. The community has a number of mentors who, according to ASM, are active sellers on Amazon and willing to assist community members by responding to questions in their spare time.
Everything starts on your dashboard, which is simple to use, and it tracks your progress through the video modules.
A direct but simple progress tracker called "Your roadmap milestones" is located right in the dashboard's center. You earn badges as you progress through the course and achieve other attainable goals.
The tracker line below the milestone changes to green once you complete a module or earn a badge. Even though it might seem straightforward, it's a great way to stay focused, stay on track, and be fully aware of where you stand.
What's Included In Amazing Selling Machine?
Here is what you get with ASM.
The 8-Week Course
Over 100 video lessons with insider knowledge, from choosing products to collaborating with influencers and increasing sales.
Mentorship Program
There is a team of highly successful Amazon sellers who help you build your store, answer your questions, and offer guidance on products, marketing, and store optimization.
The assurance that the advice is current and fully supported by evidence is the biggest benefit for you, aside from the wealth of knowledge. Any Amazon FBA-related question can be answered by searching Google, but there is never a guarantee that the results are accurate.
Private Community
The majority of the obstacles you could face have already been overcome by someone else. You can simply ask someone who has dealt with them before for assistance rather than trying to solve them on your own.
ASM has one of the best private communities. The company refers to this as "the ultimate collection of brain power regarding to Amazon FBA, and they aren't too far off.
Others might help you keep motivated while badges and community competitions make the typically tedious process of opening a store fun.
Private Resource Vault
This is a valuable collection of tools and resources. The vault contains information for businesses like transportation providers and photographers, supplier templates, product evaluation templates, and even discounts for services that support your business expansion.
Modules
The ASM contains 8 modules + a welcome module.
Welcome Modul
This module covers the ASM dashboard, the community, and the vault in detail. Then, it offers you success guidelines that serve as the cornerstone for dominating the market with your store. After that, it guides you through Amazon Seller Central.
Module 1: Finding the Perfect Product
It guides you through locating top-selling products, deciding which product categories to consider and which to avoid, using ASM product selection criteria, and even conducting patent searches. To find the best product, you can also use tool like AMZScout.
Module 2: Evaluating Suppliers & Samples
How can you tell who a good, trustworthy supplier is? How to differentiate between a high-quality item and a piece of junk?
In addition to contact templates, instructions on calculating profit margins, and sample orders, this module also includes evaluation techniques.
Module 3: Ordering Inventory & Creating Brand
This module includes the following:
Methods for evaluating products
Ordering procedures
Developing a brand
How to make conversion-oriented listings
Packaging design for goods
How to properly place an inventory order
Module 4: Building Brand Assets
This module is packed with professional branding advice, such as how to create a website, brand Facebook page, build and increase subscriber list, get product reviews, etc.
By the end of this module, you will understand exactly how to position your brand for growth.
Module 5: The Perfect Product Page
Here, you'll discover how to create titles that work wonders for SEO and conversions, create selling bullet points, and properly write a product description. Then it moves on to creating a well-balanced product pricing along with images and emails.
Module 6: The Perfect Product Launch
A successful product launch can mean the difference between profit and loss.
This module will guide you through a proper launch step-by-step. Included are the goals of a launch, planning, data analysis, campaign structure, review generation, price optimization, and how to increase sales.
Module 7: Advanced Traffic & Marketing Tools
The main topics covered here include customer service, traffic optimization, Amazon ad optimization, split testing, running promotions, etc.
Module 8: Taking Business to the Next Level
This module reveals some tips that most FBA sellers overlook when expanding their businesses.
Here it is discussed how to reach more people with your brand using influencer marketing, Facebook retargeting, email list building, and positioning yourself in Google and YouTube ad space.
What's New In Amazing Selling Machine 13?
ASM gets updates over time so that content is not outdated. Here is what is new in version 13:
Amazon Branding Tool Suite – reduces the cost of purchasing the tools necessary to create private label brands
Private Sourcing Agent – ASM can provide three suppliers for you and handle the negotiations.
Dan Ashburn's Launch Strategies – Dan is an ASM affiliate with millions in sales. He divulges some of his launch secrets, such as using various social media marketing campaigns to draw customers.
Monthly Coaching Calls – Every month, coaching calls are hosted by Rich Henderson and Mike McClary.
Zoof, ASM's Product Research Tool – User-friendly tool for finding low-hanging fruit products.
Product Analyzer Tool – Use this tool after discovering a few product options to compare the product to the market.
Perfect Keyword Tool – Find the most effective keywords to improve your product listing.
ASM Pricing
Amazing Selling Machine costs $4997, or $997 per month for six months. You will have complete access to the most recent version of the course.
Remember that before you begin selling, you'll also need to spend money creating your product or purchasing inventory.
On their sales page, a FAQ video states that ASM students typically spend $1,200 on inventory. The training advises that you start with a $2000 budget for inventory.
The only other expenditure you'll have to make is for Amazon ads, but according to ASM, these should be immediately profitable.
They offer a 30-day "no questions asked" 100% money-back guarantee.
There is also an additional 6-month refund policy in place under the ASM Success Agreement. They promise to refund you the full cost of the course membership and up to $5,000 of unsold inventory if you meet the requirements.
Amazing Selling Machine Discount Code
You can take advantage of the 40% off Amazing Selling Machine discount even though they do not usually provide a discount code. Simply click on this link to receive a discount.
The Amazing Selling Machine course will then be made available to you for just $2497 instead of the usual $4997. This translates into a huge 40% savings for you and a $2000 cost savings!
Is Amazing Selling Machine Worth The Price?
Here are some of AMS's advantages and disadvantages to help you decide if Amazing Selling Machine is worth purchasing.
PROS
Here are several things to like about ASM:
Practical, thorough, and step-by-step training.
Once purchased you also get access to the updates that are added each year.
They offer some valuable resources and tools (some are free, while others require a paid subscription).
They advise on what to watch out for and pitfalls to avoid
Thirty days money-back guarantee.
A private community that is active and helpful.
Monthly group coaching calls.
The support team quickly responds to queries.
CONS
A few things about the Amazing Selling Machine that might make you reconsider:
Very expensive compared to other Amazon FBA courses.
Not many success stories from students who began with ASM after 2017.
Students claim that in addition to the course fee, a significant investment ($5,000+) is necessary to give yourself a reasonable chance of success.
The sales page has overly optimistic claims that building a business only takes "an hour or two a day."
Overhyped with unrealistic income claims.
Needs more examples from real-world situations. What would bring more value is coaches explaining their own unique stories of struggle and triumph. The training is comprehensive but feels generic.
Whether or not the head coaches are currently managing successful Amazon businesses is unknown. Only preach and no hard evidence anywhere.
Is Amazing Selling Machine Scam or Legit?
Is Amazing Selling Machine a scam? The ASM is not a scam in any way, but it is also not a get-rich-quick scheme and requires significant time and money.
But if ASM is not a scam, then why is there so much hate surrounding this course? Undoubtedly, there is a lot of hate online. People complain that it's too expensive, and many call it a scam.
In my opinion, selling on Amazon has become much more competitive, making it harder for newcomers to succeed and build a successful business, even with the help of the Amazing Selling Machine.
Overall, the Amazon FBA business model has stagnated, and newcomers have little chance of success. Any Amazon seller who has been in business for a while will attest that FBA was less competitive five to seven years ago. Success is still possible, but it's much harder now than it used to be.
Their approach is centered on choosing the right product in a specific niche and then improving that product in some way with your own brand.
They have undoubtedly contributed to the success of many other people, but if you are working alone without knowledge about business finances or the finer points, you shouldn't be doing it.
They do say that, with the proper training and attention, "anyone can do this." Though technically accurate, I believe that claim to be somewhat deceptive given that not everyone is a good candidate. You must be willing to put in the time, work diligently, dedicate yourself, etc.
You need to consider everything else in addition to the cost of the course, including website costs, product costs, subscriptions, high-quality product images, ad spend, Amazon fees, etc.
You must comprehend cash flow, cost of goods sold, and the difference between true profit and simply sales. Additionally, you need to be passionate about your business and have a "don't quit" attitude when you don't get results immediately.
During crucial phases of the Amazon business, such as running Amazon PPC ads to obtain product reviews and improve rankings, the Amazing Selling Machine course is lacking in detail and real-world examples. For these paid advertisements, they provided a step-by-step setup guide but no illustrations of actual, successful campaigns.
What Are The Reasons Most Students Fail?
I have put together a list of the leading causes of ASM failures after reading many of the issues students were posting in the ASM forum.
Underestimating the amount of the initial investment required
ASM sales pages frequently give the impression that you can launch an Amazon FBA business for $5000 or less. There isn't much left over for marketing, only enough to order inventory.
But the first step in winning is launching your product. Then to gather customer reviews, you must spend money on PPC campaigns to generate sales.
Without customer feedback, your product listing will not rank, and without rankings, you are without a business. Running PPC involves a learning curve and requires financial investment before it is optimized.
Competition
Due to an increase in suppliers and brands listing their own products, Amazon FBA has grown considerably more competitive, which results in lower profit margins for all third-party sellers.
There is no guarantee that just a few successful products will generate a fantastic income, and there is no assurance that those products will remain profitable over the long term either.
Picking product
Choosing the right product can be difficult. Especially when you need to ensure that your product's profit margins and sales volume are appropriate. Picking a product shouldn't be based on your interests, either. Choose a product that, at the very least, has the appropriate metrics.
Not vetting the suppliers enough
Students are instructed to contact various vendors after selecting a product with the appropriate metrics. One of the frequent errors is to skimp on this step and only contact a few suppliers.
The students who get the best deals contact around 10 to 30 suppliers or more. To see how they respond to your inquiries and perhaps customize your product, you should also order samples from them.
Do they respond quickly? Do they accommodate your special requests? Are you pleased with the samples' quality?
It's essential to have a great supplier who produces high-quality goods. You can follow every step, but if your product is poor quality and receives bad reviews, there is no coming back from that.
Underestimating how long it will take & quitting too early
Most sellers will go through a number of learning curve stages, which could take an entire year. There are numerous factors (some of which are sometimes beyond your control) that can cause your Amazon FBA business to fail, so the students who actually persevered for the entire year are the ones who have the best chance of making it work.
The worst thing you can do is to have unreasonably high standards and lose patience when mistakes are made, or a task takes longer than you anticipated. In the world of Amazon FBA, patience is crucial. If you have the money, it makes sense to launch several products at once so that you aren't dependent on just one.
Amazing Selling Machine Alternatives
Here are some alternatives to consider if you are not sure if ASM is the right choice for you:
Proven Amazon Course
Freedom Ticket
Amazon Boot Camp
The Last Amazon Course
Just One Dime
Ecom Freedom

Private Label Masters
Marketplace Superheroes
Nine University
Blue Sky Amazon
Zon Ninja Masterclass
---
DISCLOSURE: Posts may contain affiliate links. If you buy something through one of those links, I might get a small commission, without any extra cost to you. Read more about it here.