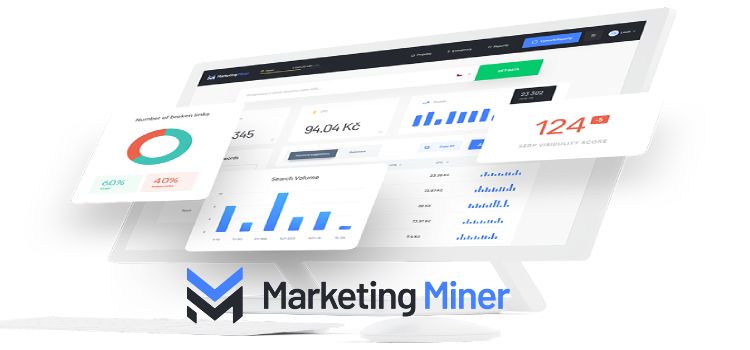 Marketing Miner is a cloud-based SEO tool that helps you with your online presence visibility. It will help you find potential search engine queries while performing keyword research, perform SEO analysis of any website, monitor site ranking, keep an eye on competitors, monitor brand mentions, help discover link-building opportunities, etc.
Marketing Miner is packed with various useful features. But is it only good on paper, or it really delivers results? In this Marketing Miner review, I will put it to the test and show you all the features it offers as well as its pros and cons.
Marketing Miner Review
Agencies, freelancers, and website owners will find Marketing Miner to be an invaluable SEO tool. Over 40 features are available to help you improve your website's search engine rankings, while a friendly interface and bulk data analysis will save you time and effort.
Improve your SEO strategy by collecting useful data insights and analyzing up to 100,000 keywords or URLs in a single click.
Thanks to Marketing Miner plethora of tools, you will develop a successful content marketing strategy, find out which landing pages and keywords bring the most traffic, monitor mentions of your brand and important keywords in your niche, conduct a comprehensive technical SEO audit, discover new link building opportunities to improve backlink profile, etc.
Features:
Create individual analyzes – You can create separate analyses no matter how many domains or keywords you need to get data.
Observe the website changes –

You can get a long-term picture of the health of your site by looking at the overall picture. The software monitors the website and sends you an email if something changes.

Easily analyze data – Thanks to profilers, you can get all data with a single click.
Keyword search volume – Reveals the average number of times a particular term is searched for each month. This number makes it easier to identify queries and the frequency with which prospective customers seek them.
Keyword suggestions –  Find all the "AutoComplete" recommendations for the term you're looking. This tool will come in handy when doing keyword research or brainstorming ideas for content.
URL indexing – Discover URLs that aren't indexed and learn why.
How Does Marketing Miner Work?
Search engine optimization is made easier thanks to Marketing Miner's ability to assist you in analyzing keywords and selecting those that are most relevant and high quality to your niche.
There are several ways in which the tool can accomplish this, including analyzing search volume and CPC (cost per click) of Google keywords and determining the most relevant landing page or automatic categorization.
With the help of Marketing Miner and a number of its main features, users can monitor their organic search ranking and the performance of websites. They can also find out how competitors perform and what they do to achieve that.
Users can also use this data mining tool to gather and evaluate critical information on the success of their products and services in the marketplace. In addition to allowing them to analyze the rates and pricing, it also allows them to track internet mentions of their brand.
Competitor analysis, rank and keyword monitoring, Google analytics integration, auditing tools, keyword research, mobile search tracking, and link management are just a few of the capabilities integrated into Marketing Miner.
Keyword Research
Marketing Miner keyword research analyzes essential SEO indicators, including search volume, trends, keyword difficulty, CPC, SERP, etc., based on your search query.
Trending keywords allow you to see what other people are searching for in the same area as you. Moreover, the tool also suggests the new keywords that have gained popularity recently.
It's also possible to look at the content gap to determine your rivals' keywords.  
SEO Audit
If your site has any technical difficulties, this feature can help you fix them. You can analyze the indexing status to understand which parts of the site don't get traffic.
Another feature allows you to inspect a website's response codes to detect and fix issues. Use this to identify any broken links on the website.
Marketing Miner can effectively reduce keyword cannibalization in content and thus help you improve online visibility.
Using the search visibility tool, you can get an idea of how much traffic a page or post receives and which are ranking keywords. If there are any technical SEO changes, you will be notified.
Rank Tracking
Marketing Miner rank tracking provides a lot of information about how well your website performs. You can track keyword ranking progress for up to 200 keywords daily or 1,000 keywords weekly per project.
Regarding tracking competitors, you can monitor rankings for up to 5 competitors per project.
Do you want to see how many different keywords you rank for? For every search type, you can evaluate results for up to 100,000 keywords in any area (even local).
Competitor Analysis
Marketing Miner provides a useful competitor analysis feature with information such as the keywords they use to rank and the estimated traffic (analysis based on organic and paid traffic).
You will discover competitor top-ranking pages so you can make data-driven judgments based on that information. Overall, you can get a list of the websites that appear in Google search results as your competitors.
Brand monitoring lets you see what other people say about your competitors. This also closely checks the competition's website and promptly reports any changes.
Get alerts when your competitors' websites are updated, like changes in H1, title, structured data, and robots.txt files.
Learn about your competitors so you can always be one step ahead of them. Use your understanding of their strengths and weaknesses to your advantage.
Brand Monitoring
Discover what people say about your brand online and how they react to it. You have the option to rapidly reply to remarks by setting an alert.
The mentions of keywords and phrases relevant to your niche are also tracked, so you're always on top of the trends.
Link Building
Improve your backlink profile by finding new link opportunities. When a link is removed from a site, you will get an email alert so you can immediately contact the site owner.
Improve your outreach efforts by learning about fresh backlink possibilities and gaining practical insights. Marketing Miner will scan the top 60 search results for terms relevant to your niche to help you discover new prospects.
Enter domains or URLs to discover websites that rank for organic keywords you are targetting. You can establish new business relationships and/or backlinks by connecting with them.
Find contact details like social media and emails for websites you wish to connect with. Up to 100,000 domains can be analyzed in a single go.
Analyze estimated search traffic for specific pages. This will help when deciding whether or not you should concentrate on link-building opportunities. Enter a URL to see how well it ranks in search results.
API
The API helps you to extract data without manually logging into the tool. It provides over ten endpoints, such as keyword suggestions, search volume, etc., to extract data.
When working with large amounts of data, it's important to access current and correct information. The REST/POST APIs are flexible and support working on your own dashboards or applications.
Bulk Data Analysis
There are more than 40 tools to examine data for up to 100,000 domains, URLs, or keywords in a matter of minutes.
Pricing Plans
Marketing Miner offers five pricing plans tailored for small- to mid-sized businesses and enterprises. Plans are Free (Minee), Miner, Digger, Machine, and Custom plan. The Minee plan is free and comes with a thousand credits per month. It is very limited compared to other plans.
Miner plan costs $29/month and includes 100,000 credits and one project with 200 monitored keywords. Digger monthly subscription fee is $59 and includes one million credits. Each project can have up to 200 monitored keywords.
With the Machine plan, you get two million credits a month for $99. The plan covers up to 20 projects, with a total of 200 keywords tracked per project.
With Custom plan, you create your own needs and select how many credits and projects you need. You can learn more about the price and features of each plan by visiting the Marketing Miner pricing page.
Marketing Miner Pros & Cons
Here are some of the advantages and disadvantages of using Marketing Miner.
PROS:
Because it is all-in-one software, you won't need any other SEO tools in addition to it.
It provides SEO experts with useful information.
Compared to other tools of a similar purpose, this one is quite affordable.
The data provided is correct and reliable.
The keyword analysis function provides you with valuable information about the requirements and preferences of your target audience.
It provides notifications in real-time.
It can handle a substantial volume of data without any problems.
It provides reports that are easy to understand and straightforward.
Provides bulk data analysis.
Offers a free version.
Option to monitor keywords ranking.
CONS:
Because there are so many different functionalities, the user interface may seem cluttered at times.
The final reports may sometimes appear technical for the novice.
The free version has many restrictions.
Marketing Miner Review Verdict
Everyone can benefit from Marketing Miner's ability to gather detailed and precise data for use in keyword research, SEO, and digital marketing. The software package includes all the tools you'll need to boost your SERP ranking, strengthen, and fine-tune your marketing approach.
The main feature of Marketing Miner is that it provides accurate and dependable data. There's no better software out there than this one since it can work with a vast amount of data simultaneously. Most of the reports are straightforward and simple to understand.
Marketing Miner provides a free plan, so you can start with that and see how the tool suits your needs. You can always upgrade to one of the paid plans when ready.
As alternatives to Marketing Miner, you can check Serpstat review, SpyFu review, Semrush review. Or if keyword research tools are what you are most interested in, I suggest you rather check my KWFinder review, Long Tail Pro review, and Keyword Revealer review.
Marketing Miner
Pros
Free plan available
Useful brand monitoring tool
Comes with keyword research feature
Find the keywords your competitors rank for
Get the full picture of your website's performance
Run a comprehensive SEO audit and discover technical issues affecting site
Discover new link building opportunities
Cons
Free plan has many restrictions
Novice users can be overwhelmed with all data
---
DISCLOSURE: Posts may contain affiliate links. If you buy something through one of those links, I might get a small commission, without any extra cost to you. Read more about it here.