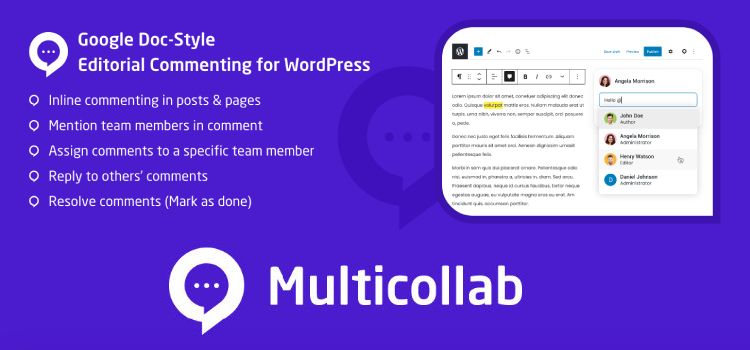 Are you looking to improve your WordPress publishing workflow? Then Multicollab is a plugin that will make your life way easier. The plugin uses Google Docs features, like inline comments, right from your site WordPress editor.
Your writing team can add remarks on particular media or text, respond to and resolve comments, provide suggestions instead of direct edits, etc.
It's like using Google Docs' collaborative capabilities inside your WordPress dashboard.
Using the Multicollab plugin, you can avoid the time-consuming process of writing content on one platform, having content reviewed and approved, and then posting content as a blog post in WordPress.
In this Multicollab review, I will walk you through the ins and outs of using Multicollab so that you can see if it's a good fit for your WordPress editorial workflows.
Multicollab Review
Multicollab is a Google Doc-style editorial commenting plugin that makes it easier and quicker to share editorial feedback. It works with Gutenberg editor, allowing you features like the ones Google Docs provides. This plugin enhances the publishing process making it easier for writers to use Gutenberg.
Thanks to this plugin, reviewing content in the Gutenberg editor has never been easier. Multicollab offers the capability of adding inline comments, suggestions, automatically emailing the suggestions, etc.
The plugin allows adding inline comments in posts and pages the same way you would when using Google Docs.
You can add comments to any part of content inside the Gutenberg editor, including text and media. Apart from mentioned, you can comment on the following type of blocks: table, list, headings, verse, quote, pullquote, button, audio, file, video, gallery, and cover.
You can add comments during the post-draft and editing stages. In the free version, you can add inline comments only on text. Plus and Pro versions of the plugin add an option to add comments to any part of content. The plugin can also be used with custom post types.
Reply & Resolve
You can respond to existing comments inline, just as you can to new ones. You can also mark it as resolved after you're done. When responding to an existing comment, you can use this handy feature to add or modify your response quickly.
A single comment can be replied to by several team members and resolved by anybody at any time.
Suggestion Mode
The suggestion mode allows you to add suggestions without permanently editing the content.
If you make changes in the suggestive view, they will appear as recommendations instead of being immediately added to the content, as they are in editing mode.
Suggestions can be accepted or rejected. It's a lifesaver when you're reviewing someone else's work for quality assurance.
Direct Comment Linking
If you want to share a specific comment with someone, you can click the three dots icon to generate a link that will take people straight to that comment in the editor.
You can set that a certain user sees and handles the comment. To assign someone, use the '@' symbol followed by their name. As you write the name, a selection of people with the appropriate user roles will appear, from which you can choose the one to whom the comment should be assigned.
An automated email will be sent to the specified team member, informing them about the comment. As a result, even if the user isn't on the site or aware of the comment, he'll be notified.
You and your team can mark and comment on any areas that require attention, whether it's an image or a part of the text.
To improve the editorial process, Multicollab pro gives you the ability to tag, assign, and comment precisely where you need to, whether you want to leave comments on video, audio, gallery, or image.
Email Notifications
When someone is tagged in a comment, they will automatically receive an email notification. This is a great feature that will allow to increase efficiency and decrease turnaround time.
You won't have to worry about your or team members missing anything.
Gutenberg Integration
The plugin is built specifically for the Gutenberg editor. You won't be able to use the plugin with the classic editor.
User Roles & Accesses
With Multicollab, you can grant certain users permissions to add and resolve comments and suggestions. It gives you a simple editor to enable/disable those capabilities depending on the user roles.
This means you can enable writers to post comments and reply to them, but only editors can resolve them and approve suggestions.
You have complete control over who can access each feature and participate in the project.
View Reports & Timelines
There are many helpful reporting features included in Multicollab. You can view timelines of all the activities:
With the free plugin version, you get a summary for an individual piece of content inside the editor.
The pro version provides a single dashboard that shows all activities.
You can see activities and summary in the page/post editor.
Having all of your adjustments, comments, and feedback in one place is possible thanks to the Advanced Dashboard. It consists of Activity Timeline and Activity Snapshot that gives you a different perspective on things by showing you a breakdown for each post.
The number of editorial comments is also shown in a column in the Posts and Pages list.
How To Use Multicollab?
After installing and activating Multicollab, you'll automatically see it when you open the WordPress editor. The Multicollab option will be available in the editor's toolbar, allowing you to access all of the settings from the sidebar.
When you're re-writing based on suggestions and comments, you can hide comments so that they don't present a distraction.
Open any post in the Gutenberg editor, and you will see the MultiCollab icon at the top right corner. Clicking the icon will open the activity center and settings.
A portion of the text must first be selected before you can post a comment. Then click on the drop-down icon and choose the comment option.
Like in Google Docs, you can type your comments and save them by clicking the Save button.
You can edit comments anytime by using the pencil symbol in the comment box's upper right corner. You will notice a trash can symbol next to the pencil icon, which is used for deleting the comment.
To resolve a comment, click on the checkbox at the top of the comment pop-up. Responding to comments is also easy. Just type in the comment and press the reply button.
If your blog post has a lot of comments and you want to check it without having to go through them all, you can disable the 'Show all Comments' option by going to the Multicollab icon > Settings. This will temporarily hide all comments.
Multicollab allows you to see all open and total comments in a listview in the WordPress admin dashboard when you go to the posts or pages display.
Using this summary, you can quickly check how many comments still need to be reviewed for a particular article.
Multicollab Pricing
Using a freemium pricing model, Multicollab offers a forever free plan and then two paid plans.
The free plan supports the following features:
Comments only on text
Assign comments to team members
Tag team members
Reply to comments
Resolve comments
Copy and share links
Activity center
If you want more features,  you will need to go with one of the paid plans:
Plus – $199/year (all features from the free plan plus comment on text and media, manage permissions, email notifications)
Pro – $499/year (all features from previous plans plus suggestion mode and advanced reporting dashboard)
The Pro plan also provides faster support response times (within one business day compared to 2-3 business days in the Plus plan). For a detailed feature comparison between the pricing plans, you can check the pricing page.
Multicollab Review Verdict
There are many helpful tools when it comes to writing content. Tools like Grammarly, Trinka and ProWritingAid can help you with proofreading the content while Multicollab offers Google Doc style commenting features to speed up content creation workflow.
Moving a post between different text editors is a waste of time. Most teams require efficient collaboration tools when it comes to comments, assigning tasks, suggestions, and resolving issues when writing content. For bigger editorial teams, Multicollab is a handy plugin.
Working in the native WordPress editor using the Google Docs collaboration capabilities is now possible with Multicollab.
If all you want to do is use the comment feature on the text and are satisfied with the basic features, the free version will be enough for your needs. However, if you need features like permission control, suggestion mode, email alerts, and more extensive reporting, you'll need to upgrade to a paid plan.
Multicollab is unnecessary for a solo blogger who doesn't need to work with anybody else. But this plugin is a worthwhile investment in the long run when it comes to bigger teams.
If you want to try Multicollab, you can either install the free version or take advantage of the 14-day free trial for the premium plans.
---
DISCLOSURE: Posts may contain affiliate links. If you buy something through one of those links, I might get a small commission, without any extra cost to you. Read more about it here.